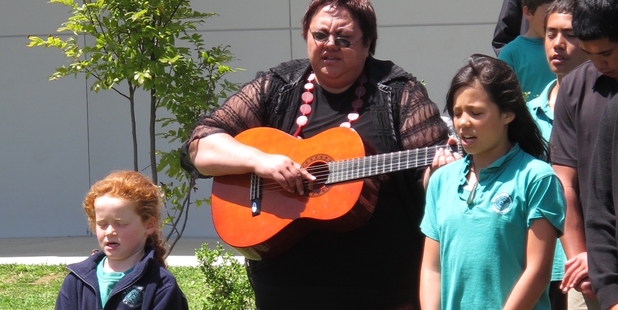 The Education Ministry is investigating the legality of a board of trustees election at a Northland school where the roll has plummeted by more than half.
At the end of 2013 Te Kura Kaupapa Maori o Whangaroa, at Matauri Bay, had 103 students.
The roll at the start of the current school year is understood to have dropped as low as 36. The school currently has 52 pupils.
Parents have been reluctant to speak out but it is understood the problems came to a head over the Christmas break.
Under principal Louisa Mutu the school had grown from about 15 pupils to just over 100 and had strong community support. It had gained wharekura (secondary school) status, set up a sports academy, and opened a $3 million wharekura building at the end of 2013.
A new board of trustees elected last June sacked Ms Mutu in October. It is understood one of the new board's concerns was the amount of English being used at the Maori immersion school.
Some parents also claimed the new board had not fully investigated allegations concerning the behaviour of another person connected with the school.
Teachers were locked out for two weeks in January and a number of staff resigned or took sick leave. At the start of the school year parents pulled about 50 children from the kura.
Most have gone to neighbouring Matauri Bay School, which has had to create extra classrooms and hire staff to cope with the influx, while the older students have gone to Whangaroa College in Kaeo.
The school had previously been run by a group of parents who say the kura kaupapa governing body Te Runanga Nui led them to believe their informal board was legal.
Many were surprised by last June's board of trustees election and question whether proper processes were followed.
Parents have approached Education Minister Hekia Parata and Ministry officials since January, initially with little result.
However, the Ministry has now asked the board for evidence it was legally elected. It is understood the deadline passed last Friday.
Katrina Casey, head of sector enablement and support, said following a complaint the Ministry was investigating whether the elections met the appropriate criteria.
"If we find that they didn't, then we would appoint a commissioner whose responsibility would be to run a new election process as quickly as possible for the kura."
A decision was likely within days, she said.
The Ministry earlier told the Advocate it was aware of the drop in the kura's roll, saying it would be concerned if it affected student learning.
The Ministry would not comment on the reasons for the exodus, but said the board had kept officials informed of issues facing the school and community.
Board chairman Terry Smith could not be contacted for comment yesterday.