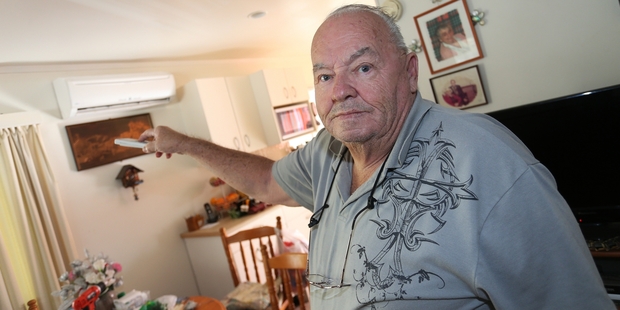 An Auckland company's efforts to drum up business in Whangarei has aroused Grey Power suspicions about scams targeting the vulnerable elderly.
Whangarei Grey Power treasurer Jack Kerr, of Tikipunga, got a call on Monday from Auckland firm Air Force One telling him the heat pump he had bought from Hubands in Whangarei about six years ago was overdue for servicing.
"The girl [from Air Force One] said they could send a serviceman to my place on Tuesday and quoted me $150 for the job," Mr Kerr said.
He called Hubands, found his heat pump wasn't due for servicing until November and their fee would be around $80.
"When I called Air Force One back and asked them to explain the woman hung up," Mr Kerr said.
Fearing the Auckland company was among the many "fly-by-nighters who rip off the elderly", he called Whangarei Grey Power chairman Jim Beniston, who told the Advocate the issue would be raised when the 350 members of his association meet on Monday.
"People living on the pension can't afford to get caught in scams," Mr Beniston said.
Hubands' manager Natasha Witten said some of her firm's customers had claimed Air Force One telemarketers had told them the Auckland company had taken over Hubands' heat pump servicing in Whangarei.
There had been no takeover. Hubands charged $94 for heat pump servicing and senior citizens got a $15 discount, she said.
Air Force One director Shawn Blanchfield said his firm did telemarketing "cold calls" seeking business in Whangarei, contacting up to 180 city homes weekly.
He defended the $150 quote, laughing when told the Hubands' price and saying:"They [Hubands] were charging around $120 last week."
Told about the telemarketing claims, he said Air Force One wanted complainants to contact his company so the telemarketing could be corrected.
Air Force One had been given "a clean bill of health" after being contacted by the Commerce Commission following a complaint by a rival heat pump installer a couple of months ago, Mr Blanchfield said.
A commission spokesman verified no action had been taken following an investigation under the Fair Trading Act.
NetSafe operations manager Lee Chisholm said scams targeting seniors included people who went door to door offering to fix driveways, paint roofs or prune trees.
They disappeared after getting money, generally without completing the job.
Cold calls from people claiming to be from Microsoft and seeking cash to install computer security devices also caught out old people, she said.