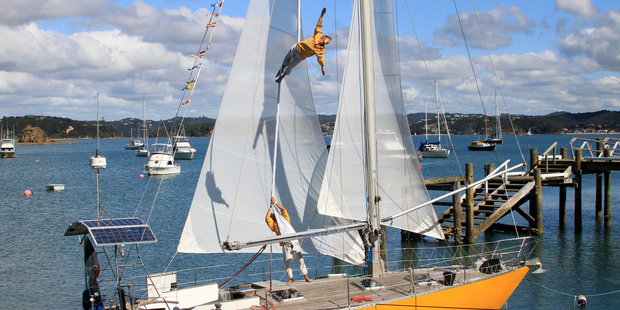 Welcome to our new weekly round-up of news snippets, events and oddities from the Bay of Islands and around the Mid North.

Head for heights
A French couple with a love of sailing and a head for heights have been entertaining Bay of Islands folk with acrobatic feats in their yacht's rigging.
Delphine Lechifflart and Franck Rabillier have been sailing the world on the 8m La Loupiote since 2004, paying their way by performing acrobatic shows with their sails and rigging standing in as a circus trapeze. After shows in Russell and Opua they are now en route to New Caledonia.

Buon appetito!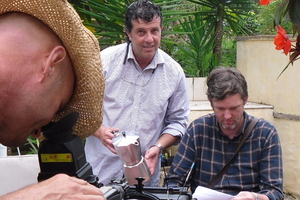 A crew from the TV series Neighbourhood, which explores New Zealand's cultural diversity one neighbourhood at a time, has been busy filming in the Bay of Islands.
Among the Bay's many colourful immigrants in the spotlight were the Loggia family of Skudder's Beach, near Kerikeri, who can be spotted most Sundays at Kerikeri's farmers market selling limoncello, a traditional Italian liqueur.
The episode is due to screen on TV One in late June or early July.

Furry invader caught
A furry invader has been trapped on a pest-free island in the Bay of Islands. The large male Norway rat was caught on Urupukapuka Island late last month, alarming conservationists working to restore wildlife on the islands.
It was snared in a DoC 200 trap near the Otehei Bay woolshed and was the second rat seen on the island in the past two months.
DoC senior ranger Adrian Walker the first rat had been flushed from the bush at Entico Bay by a specially trained rodent dog in February.
''It's possible this rat could have avoided detection or capture and was finally caught in Otehei Bay. Alternatively this is a new arrival and, with the warm weather and still seas we've had recently, it wouldn't take much for this second rat to have swum from a boat or from somewhere along the eastern Bay of Islands coast. What the pest-free islands really need now to help stop more rats finding their way out here is some wet, cold weather.''
Guardians of the Bay of Islands chair Fleur Corbett urged boaties to check their gear and boat for rats and mice before leaving the mainland.
Pest control on the eastern Bay of Islands mainland, as well as boaties' vigilance, was keeping most pests away.
Project Island Song, which started in 2008, aims to restore the Ipipiri islands of the eastern Bay of Islands by eradicating pests and reintroducing native birds and other fauna.

Arthritis help
A campaign is underway in the Mid North to make people aware of the services available for people with arthritis, thanks to a bequest from a wealthy donor who specified the money had to benefit the people of Northland.
Upcoming activities include workshops in Cooper's Beach and Taipa area on May 8 and 9 about living with arthritis. Hui, seminars and clinics are planned around the North in coming weeks.
More than 530,000 New Zealanders are affected by 140 known forms of arthritis.

One man's war
An exhibition in the attic of Kerikeri's Stone Store until May 12 tells one soldier's story of World War I.
Gifts for King and Country is the tale of Ernest Kemp, who fought in the Middle East and later gifted Kemp House, New Zealand's oldest building, to the nation.
The photographic exhibition includes a series of photos of unidentified soldiers discovered when the show was being prepared.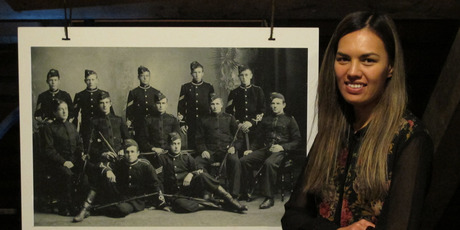 The Historic Places Trust hopes someone will be able to name them and explain their links to Kerikeri or Mr Kemp.
The show was put together by Katrina Matete, who landed the job of Kerikeri Mission Station visitor services coordinator when she returned home to Kaikohe from Melbourne six months ago.
It is open daily to 4pm and costs $5 or $10 with a guided tour of Kemp House.

Lunchtime concert
This Friday's lunchtime concert at the Turner Centre in Kerikeri features choral group the Overtones with up-and-coming lyric soprano Christine Nolden of Doubtless Bay. The show starts at noon in the Theatre Bar. Entry by gold coin donation.

111 for fire
A fire at 111 Pukepoto Rd, Kaitaia, last Tuesday evening which had the home owners calling 111 was the Kaitaia Fire Brigade's 111th callout of the year.
Firefighters managed to save the house but had to remove part of the roof to access hot spots, replacing it two hours later when the blaze was safely out.

Do you have news or an upcoming event you'd like to see in this column? Send it to us, including your full contact details, to baynews@northernadvocate.co.nz

April 30 edition. Complied by Peter de Graaf.