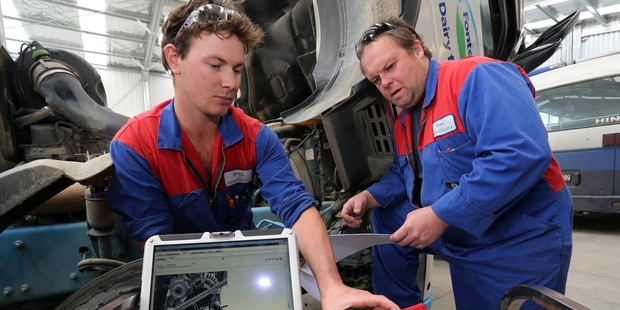 A Whangarei recruitment specialist says there is a high demand for diesel mechanics and engineers in Northland.
However, they are proving hard to find.
Recruitment manager at Direction Recruitment in Whangarei Paula Kalkhoven said an increasing number of job opportunities in Northland was opening the market to "good quality people".
"We've just been run off our feet."
Structural engineering was one area with numerous opportunities for local job hunters who had the right qualifications, she said.
There were seven vacancies in Northland for structural and civil engineers on jobs website Seek yesterday.
Ms Kalkhoven said Northland also had a shortage of diesel mechanics, who were "really hard to find".
"There's pockets of trade-based people who have maybe gone elsewhere over the last few years or so. Now things are picking up in Northland again ...
we're needing to drag those sorts of people back."
Local vacancies for chartered accountants were also rising, as were building and construction positions, she said.
Seek had 189 jobs in all categories listed in Northland yesterday with 127 in Whangarei and 71 in other areas.
There were 29 vacancies under trades and services, 20 in health, 15 in engineering and eight under accounting.
Trademe posted 183 jobs in all categories in Northland yesterday., with 137 in Whangarei.
Trades and services topped the list at 49 vacancies, followed by engineering at 12, transport and logistics at nine, and four accounting jobs.
According to Statistics New Zealand's most recent household labour force survey, Northland's employment rate was 55.4 per cent of the working age population or 66,700, for the December quarter, up from 54.6 per cent for the same period a year earlier.
Northland's unemployment rate at the end of 2013 was 9 per cent or 6600 people.
Northland Chamber of Commerce chief executive Tony Collins said a shortage of skills was being experienced across a wide range of trade sectors for two key reasons.
Firstly, he said those that couldn't find jobs in Northland had left for Australia, Christchurch and other places a few years ago, creating a vacuum.
Secondly, since businesses that struggled in the recession didn't hire apprentices, there was a lack of training for them to take over from skilled and experienced workers who left.
Mr Collins also said business confidence and the fact that certain companies were either expanding or hiring more staff contributed to a demand for skilled workers.
This comes as the Ministry of Business, Innovation and Employment's launched its latest online jobs report which showed the number of jobs advertised online jumped 18.4 per cent nationwide in the year to March.
Vacancies for skilled positions were up 16.5 per cent.
Are you a jobseeker looking for work in Northland, or an employee who can't fill vacancies? We want to hear from you.
Email reporters@northernadvocate.co.nz.