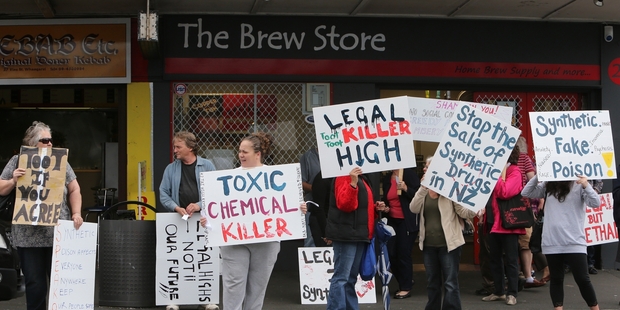 A Whangarei group rallying for the total ban of legal highs is ramping up its campaign, as well as offering support for those affected by its use.
The latest in a string of nationwide protests outside shops selling synthetic cannabis was held in Whangarei on Saturday, with organisers looking to protest in Dargaville next month.
Organiser Darcel Bolton said around 20 people converged outside the Brew Store in Vine St - one of three firms in Whangarei with interim licences to sell legal highs - between 1pm and 2pm on Saturday. "It was a protest to keep momentum, keep in the public eye and get signatures for the national petition [to ban all legal highs]," she said.
"We got over 200 signatures - a really good response. We also got a good response from neighbouring businesses too."
Group members are meeting with Kaipara District Council commissioners today in the hope of getting a policy drafted for Dargaville that is in line with that of Whangarei's, she said.
A protest outside the Dargaville legal high retailer is planned for May 10. "We figure once they stop selling here [in Whangarei], they're [the retailers] are going to move elsewhere. We want a ban New Zealand wide, not just Whangarei."
The group has also started a Whangarei support group for users, ex-users, family members and friends of users, which has its first meeting on May 1 from 5.30pm at Otangarei Community House. "People have got nowhere to go, and they aren't really sure how to help each other," Ms Bolton said.
Under the Psychoactive Substances Act licensed retailers can sell the substances, also dubbed legal highs, deemed to pose a low risk of harm.
But the Ministry of Health can ban approved products based on reports of adverse effects provided to the Centre for Adverse Reactions Monitoring (CARM) and the National Poisons Centre. The ministry has already used this to ban five previously approved products. There are still 41 psychoactive substances allowed to be sold.
However, yesterday the Government has announced that all legal highs will be banned within two weeks.
CARM director Michael Tatley said the centre had received 52 reports of adverse effects from legal highs between the end of November and end of March with some of the reports coming from Northland.
Whangarei District Council wants to limit the sale of psychoactive substances to a three-block area of the CBD, but many people want them outlawed.
READ MORE: Government bans legal highs, p22
What are legal highs, p21