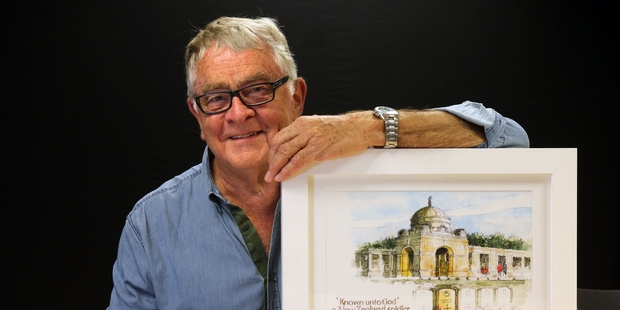 In a painting of Tyne Cot Cemetery in Belgium, Whangarei Heads artist David Foley has highlighted one headstone in a row of identical graves of New Zealand soldiers.
On the pen and wash painting he completed in 2011, Foley has written "Known unto God - a New Zealand Soldier, Passchendaele."
Foley's original painting is on permanent display at the National Army Museum, Waiouru.
The largest Commonwealth War Graves Commission cemetery on the Western Front, Tyne Cot contains more New Zealand World War I graves than any other single cemetery.
Sitting on the strategic high ground from which the Germans looked down across the Allied forces, it is a historic site of the battle of Passchendaele.
Within its flint walls are the graves of almost 12,000 dead from World War I, 8300 of them unidentified. The entire rear of the cemetery is occupied by a curved Memorial to the Missing, commemorating another 35,000 soldiers who have no known graves.
Along with many Australian fallen, it holds 520 graves of New Zealanders, 322 of them unidentified.
The New Zealand Apse in the memorial commemorates 1176 New Zealanders who have no known graves. The cemetery covers 34,941sq m.
Nearby, at Buttes, is another New Zealand Memorial to the Missing, and a third is at Messines.