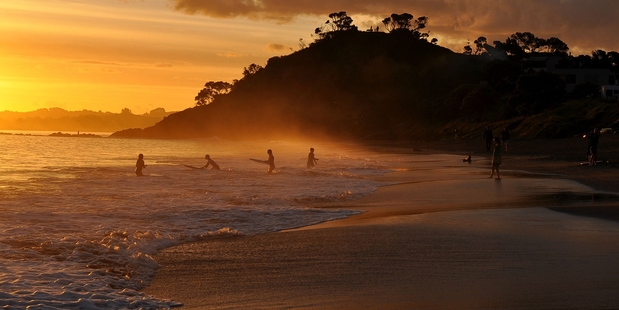 Jahanna Hollis and partner Adam Lloyd-Jones' kids Kaya, 4, Rylee, 6 and Kobie, 10, were in their pyjamas and ready for bed. So what better thing to do on a beautiful Northland summer's evening, than go for a walk on the beach?
"They all ended up in the water," Jahanna (pictured) told the Advocate while explaining how she came to take the picture that won her the Northern Advocate's Summer - Love it Here photograph competition. Jahanna's children dived in that night, but it was her shot of another group of kids having a late evening swim at Whangaumu (Wellington's) Bay, Tutukaka, that was selected by Advocate photographers John Stone and Michael Cunningham. Competition entrants were invited to submit photos that captured the wonderful summer that Northland has experienced, and Stone said Jahanna's "gem of a photo" did just that.
"It evokes all those memories of summer, that warm evening glow, it's quite special. I like the way she has managed to capture the swimmers in that little slash of light, so you can clearly see them."
Jahanna was delighted with the comments and with her prize, funded by the Advocate and the Whangarei District Council - a brand new iPad Air, with a screen protector and iPad Air smart cover from Barrells 100%. She took her winning photograph with a Nikon D90 and confesses that she loves photography. "It makes my heart very happy."