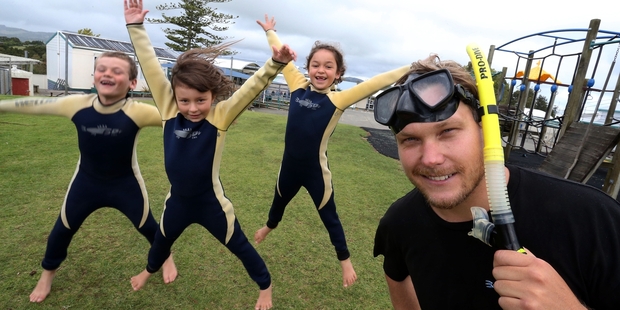 A snorkelling field trip inspired young Matarau School students to fundraise for wetsuits to allow more kids to enjoy the experience.
Matarau's junior students enjoyed a field trip to Reotahi with Experiencing Marine Reserves last month, said senior teacher Rachael Robertson.
"When we there we noticed there was only a small amount of small-sized gear."
So, as part of studying "community", the classes opted to fundraise for Experiencing Marine Reserves, in order to help purchase more small-sized snorkelling gear and wetsuits.
"This gave us the opportunity to give back to an organisation we really enjoyed using," Mrs Robertson said.
Students brought in donations of Easter eggs which were made into hampers. They then sold raffle tickets for the hampers to friends and family.
A total of $1798 was raised, with the raffle drawn at assembly yesterday.
"We are really rapt this money is going to be used towards this," Mrs Robertson said.
Experiencing Marine Reserves' Anton Bowker was equally as happy.
"We're just really proud and impressed with the amount of work these kids have put in for the cause, so other kids can also experience Experiencing Marine Reserves," he said.