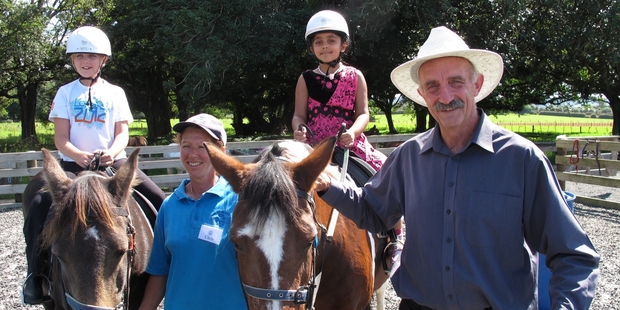 An indoor arena now under construction could triple the number of Mid North children helped by Riding for the Disabled.
RDA Bay of Islands currently holds riding sessions for about 25 children a week in its outdoor arena at the showgrounds in Waimate North.
The group says the number of children it helps could be at least three times higher but it is limited by weather.
That is all about to change with work starting this week on a long-awaited covered riding arena. The 40x25m building will cost close to $400,000 and will be built by Far North firm A-Line Builders. As well as a riding ring it will have a classroom, kitchen, toilets, office and a storeroom.
The project was blessed last Tuesday by Parawhenua Marae kaumatua Tappy Anderson with Far North Mayor John Carter symbolically turning the first sod and chairwoman Yvonne Sharp officiating.
Deputy chair Alastair Wells said three to four times as many children would be able to use the service, as long as enough volunteers were available, once the arena was completed in about eight weeks' time.
Schools in Omapere, for example, were reluctant to send pupils to Waimate North if they could not be sure riding would go ahead once they arrived. About half the riding days were lost to bad weather.
Mr Wells said routine, and making sure riding went ahead as scheduled, was important to many disabled children.
The group had already raised the $350,000 required to build the shed. Another $60,000-$70,000 was needed to fit it out.
During the launch Mr Carter said he would do all he could to smooth the project's path, including waiving building consent fees.
The volunteer-led project was an example of how the Far North had changed from a place where people expected things to be done for them to a place where people did things for themselves, he said.
RDA Bay of Islands covers the area from Towai to the Mangamukas and from Rawhiti to Omapere.
Builders have agreed to down tools periodically so the twice-weekly riding sessions can continue.