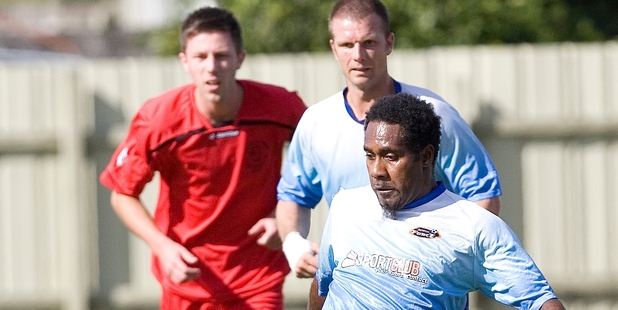 North Force has done it again, this time beating Tauranga 2-1 in Kamo to give the side back-to-back wins for the first time in 20 months.
Northland's representative football side showed they are a new team with new belief as they again withstood a second half battering from the opposition attack.
However, unlike last weekend's 4-3 win against Papakura North Force looked in control rather than desperate.
Coach Russell Baddeley said Saturday's win was delightful, adding there was more to come.
"To come out on top just lifts our confidence and self-belief even further," Baddeley explained of the feeling within the camp. "At the moment if you walked into the changing room and asked the boys, I don't think they'd be scared to play anyone in the league.
"For us it's not so much about the winning a game after 20 months, for us it's about the getting the points. The two wins in a row means we've got six points and we're off to a good start.
"Once you start going on a run of results it becomes a habit. I can't fault the boys at the moment, they're doing everything I ask.
"We don't think we're anywhere near as good as we can be, we're still gelling as a team [and] still getting defensive patterns sorted. I think we can get a lot better."
Putting away goals for North Force this week were Steve Schimmel and Keegan Baddeley, although coach Baddeley felt more deserved credit for the result.
"The bunch of boys we've got are all determined, got the quality to go with the determination, there's no egos, they all work hard for each other.
"I said I wanted to get the best players in Northland here, the best players should be playing for North Force, and if I look in that changing room I think they are all there."
Baddeley added that Jeremy Rintoul at sweeper was a top performer with his marshalling of the defence while Nathan Steel and Joe Luiten were crucial in the midfield. He said Scott Burgess was his player of the day.
On Friday North Force travel to Auckland to play Forrest Hill before heading back home to host Oratia on Easter Monday, making for a tough weekend.
Baddeley said the next steps for the team were easy.
"Our intention now is to just keep focusing one game at a time and three points at a time. The boys really want to try and get promotion if not win the title, that's what's in their heads at the moment. We know we've got a long way to go so the boys know we'll be working hard in training. There's nobody who thinks we're good enough and that where we'll stay improving. I think we're at 80 per cent."
Last week's 4-3 win over Papakura was North Force's first in 20 months, which came at the same time as the last back-to-back win.