Grandmother falls between housing cracks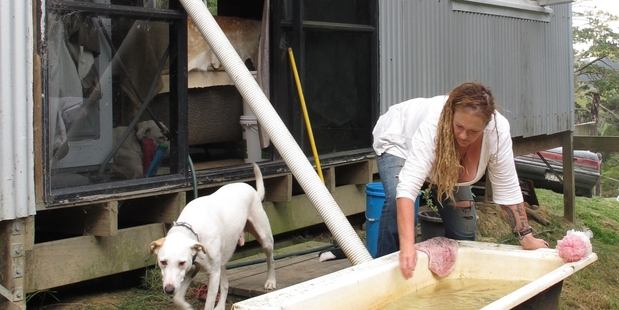 Helyn Tavita and her 5-year-old granddaughter live in a shed without running water or power.
Their toilet is a bucket which has to be emptied in a pit in the bush.
Water from a spring is piped to an outdoor tap and they wash themselves in an outside tub.
Their shed, up a gravel road near Kaeo, looks cosy in summer. But come winter chill winds blow through the floorboards and cold seeps through the uninsulated walls.
A Northland housing charity says Ms Tavita ended up in this predicament through no fault of her own, but due to a series of unfortunate events starting with the 2007 Kaeo floods.
Habitat for Humanity Northland director Conrad LaPointe says his charity will provide solar panels so Ms Tavita can at least run a fridge and lighting, and won't have to spend $70 a week running a generator.
However, Habitat's funds are limited so he hopes other groups or individuals can help, for example by fitting insulation, hooking up her wetback stove for hot water, or installing plumbing.
"Here's someone who had a home, then the flood came, insurance didn't pay for everything, and now here she is. She's trying to stand on her own feet but it's really difficult because she doesn't fall into the Housing NZ remit," Mr LaPointe said.
Seven years ago Ms Tavita had been planning to build on a section she had bought just outside Kaeo. Her house, on the town's main street, was on the market. Settlement was due the day the March 2007 flood hit.
The house was condemned and the sale fell through. An Earthquake Commission payout of $18,000 didn't come close to the $100,000 cost of a retaining wall required to make the house safe.
With two mortgages and three teenage kids she had no choice but to sell the house for whatever she could get, half the sum she'd paid a few years earlier. It was a financial hit but it cleared the mortgage on the house and left her with $40,000. It was not enough for a house so she built a shed instead.
While the shed was being built the family camped out on the land, the boy sleeping on a couch under a tarp, the two girls in a van, and Ms Tavita in an old house truck. At the time the children's father had Parkinson's disease and was in no position to help. He has since died.
Ms Tavita said she had done her best to make the shed homely but had not expected to be looking after her granddaughter.
With a special-needs child to care for she had been forced to give up her part-time milking job.
She said everyday chores took much longer without running water and mains power. It was also expensive with her generator costing so much to run. Once the bills had been paid there was little left for food.
Her children had urged her to sell up and apply for state housing but she could not leave because her mortgage was more than the property's current value. "People don't realise how hard it is. I'm just stuck here and I can't move forward."
Anyone keen to help Ms Tavita can email northland@habitat.org.nz. To support Habitat's work in Northland you can donate second-hand goods to ReStore on Whangarei's Kioreroa Rd, (09) 438 2250.