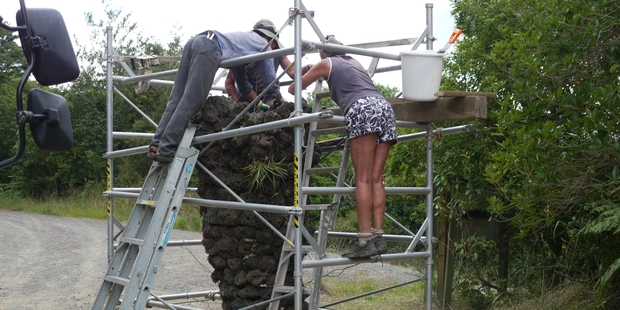 A cairn made by one of New Zealand's most famous sculptors to mark the first section of Te Araroa, a walkway now stretching from Cape Reinga to Bluff, has been restored 15 years after it was vandalised.
In 1995 forest owners gave permission for the first off-road section of Te Araroa linking Kerikeri and Paihia through the Waitangi Forest.
Trail founder Geoff Chapple said it was a significant milestone in the development of a New Zealand-long walkway so he wanted to commemorate in some way.
"I asked Chris Booth, who has his workshop at Kerikeri, if he'd do a sculpture to mark the occasion. We had very little money and Chris came up with the cairn, which could be done cheaply."
About four years later, however, "a rogue four-wheel drive" entered the forest and pushed the cairn over, breaking its two-tonne breaking strain hawser and sending the sculpture toppling over a bank. The vandals also severely damaged the foundation stone, he said.
Last week Mr Booth and a team of volunteers completed their reconstruction of the monument and re-attached it to an even stronger hawser. Mr Chapple hoped Maori and Pakeha blessings would give the renewed cairn sanctity.
It is located on Te Puke forest road and accessible on foot or bike, 1km from Mt Bledisloe at the Waitangi end of the trail or 9km from Kerikeri Inlet Rd.
"The original sculpture marked the beginning of what became a 19-year effort to put in a New Zealand-long walking trail," Mr Chapple said.
"The entire 3000km trail was opened by the Governor-General Jerry Mateparae in December 2011. It's now well-known and well-used, and the symbols of its beginnings are all the more important."
Mr Booth's more famous works include the Rainbow Warrior Memorial at Matauri Bay, the sculpture at Kerikeri Domain, and Australia's largest public sculpture at the Sydney Botanic Gardens.