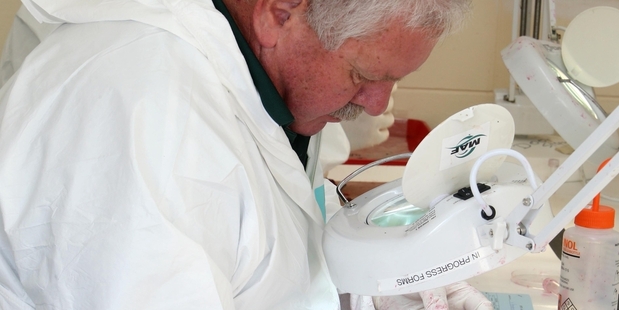 The search for Queensland fruit flies on the loose in Whangarei goes on as the first week of trapping and controls has passed without any of the potentially devastating insects being found in the city.
More than 60 Ministry for Primary Industries (MPI) and AssureQuality staff in Whangarei and 50 in Wellington have been working on the biosecurity response since a single male fruit fly was found in the Parihaka area of the city last Tuesday about 400m from where a similar insect was discovered in January.
Members of the public have submitted four insects to MPI, and none were fruit flies.
The Australian fly is a major threat to New Zealand's $5.6 billion horticulture industry, which employs 1200 Northlanders and contributes $66 million annually to the region's income.
Following two days of trap inspections from the Zone A controlled area in a 200m circle around the place where the latest find was made, no fruit fly has been detected.
Fruit collected from properties near the fruit fly detection site has been examined with no fruit fly detected.
The Whangarei Countdown supermarket in Okara Drive and the Pak 'n Save supermarket in Walton St are outside the Zone B controlled area in a 1.5km circle around the fly detection site and sales of fruit and vegetables continue as usual.
Watch the video to see how the traps work: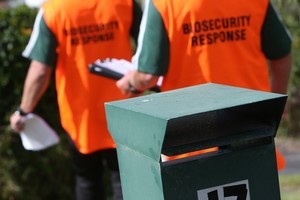 MPI asks that people who have bought fruit and vegetables outside the controlled area but need to travel through Zone B, ensure their produce is in plastic bags for the journey.
There are now 113 response traps in Zone A and 197 response traps in Zone B. The original fruit fly was found in a surveillance trap that is part of MPI's national surveillance programme. There are 13 of these routine surveillance traps in the controlled area.
Traps from Zone A are being checked daily and Zone B traps are to be inspected for the first time today.
Residents in the controlled area have been advised to dispose of all fruit and vegetable waste through in-sink waste disposal units or in 218 bins which MPI has provided and is emptying.
Meanwhile, biosecurity has been increased at airports, the international mail centre and associated facilities in Auckland and Whangarei.