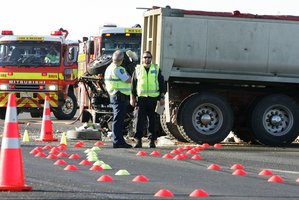 Police have named the man killed in a head on collision on State highway 1 near Mata on Saturday.
He was 48-year-old Stuart Trevor Williams, from Auckland.
Whangarei Sergeant Chris Goodall was one of the officers called to the scene on State Highway 1 at Mata about 7.30am on Saturday.
He described the mangled wreck of the light truck as "horrendous".
Mr Goodall said the light refrigerated truck had come from Auckland and was heading north when it veered across the centre line on a gentle left hand bend between Flyger and Cotton Roads.
Shortly after the crash diversions were put in place and State Highway 1 was closed for seven hours, while police and contractors cleared the road, examined the scene and removed the vehicles.