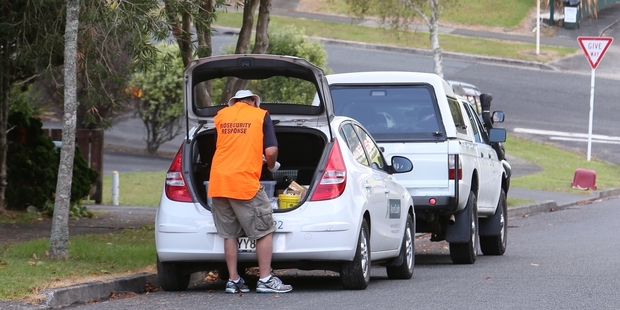 Finding a second Queensland fruit fly in Whangarei in three months has brought biosecurity fears sharply into focus, threatening the incomes of 1200 Northlanders who work in the region's $66 million a year horticulture industry.
The Queensland fruit fly is regarded as the "foot and mouth disease" of the horticulture industry. An infestation could devastate the sector, which had a total value of $5.6 billion nationally last year.
It cost $1.6 million for the biosecurity alert which followed the discovery of a fruit fly at Whangarei in January and the cost is expected to be similar to deal with the second fruit fly trapped on Tuesday close to where the first had been found, as long as this is a lone invader and no more are found.
Horticulture New Zealand chief executive Peter Silcock said it was unbelievable the country faced another Queensland fruit fly detection so soon after the last one.
MPI, which is running the biosecurity operation, does not believe the two flies were linked.
"We have to urgently look at how we are managing the biosecurity risk so we don't keep finding this pest in our traps," Mr Silcock said.
Labour's Primary Industries spokesman Damien O'Connor said that at a cost to the taxpayer of more than $1 million a fly in Whangarei, it would be better for the Government to invest more in front-line biosecurity prevention.
Maungakaramea orchardist Zelka Grammer-Vallings agreed. She recalled 60 front-line border biosecurity jobs being cut and said the latest fruit fly discovery raised questions about the Government focus on responding to rather than preventing biosecurity breaches.
Meanwhile, a 1.5km circular area around the place where the fruit fly was found this week - taking in parts of Parihaka, Riverside and central Whangarei - has been declared a controlled area inside which the movement of fresh fruit and vegetables is restricted. Special bins are being provided there for the disposal of fruit and vegetable waste.
MPI investigators in the affected area will be laying traps and checking fruit trees, vegetable gardens and rubbish bins for any signs of fruit flies.
If more flies are found, the MPI says aerial spraying of insecticides will not be considered as there are other more effective treatment methods available.
Asked how MPI could be sure the discoveries of the two fruit flies in January and this week were unrelated, a ministry spokesman said all the science-based information indicated a link was unlikely.
Biosecurity checks for ships and yachts coming to Whangarei from overseas are carried out at Marsden Pt and Marsden Cove. Vessels with biosecurity risk goods are not permitted to enter the upper Whangarei Harbour.
Small craft such as yachts are met on arrival and inspected at Marsden Cove. Any prohibited risk goods are seized under the Biosecurity Act 1993 and destroyed.
MPI does not check yachts before they land, as this would be impractical, the spokesman said.
Asked how female fruit flies were detected, he said male lures were more effective in trapping flies and if evidence of other life stages was obtained by examining fruit from the controlled area traps could be deployed using a protein liquid lure attractive to females.
Asked how Whangarei residents would know if they had fruit flies in their gardens, the MPI spokesman said female flies pushed eggs through the skin of fruit leaving a small scar or "sting" on the fruit surface.
"Residents are more likely to see the maggot in fruit once it is cut open. The larvae are creamy white, have no legs and are up to 6mm long," he said.
Grower's view, page 5