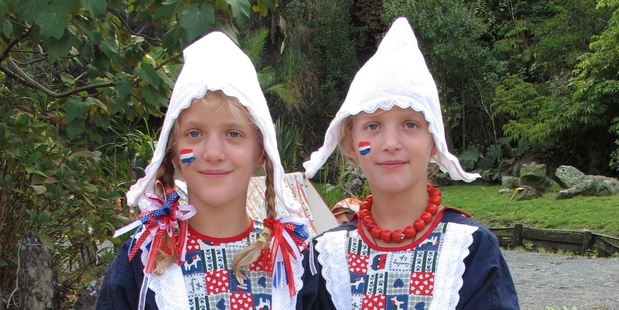 Members of Northland's Dutch community will once again be dusting off their clogs and donning orange outfits for Whangarei's Holland Festival later this month.
Now in its fourth year and drawing a record 4000 people in 2013, this year's knees-up will be held at the Quarry Arts Centre on Selwyn Ave from noon on Saturday, April 26.
The event mirrors the annual festivities in Holland honouring the Dutch royal family. One of the world's biggest outdoor parties, it draws a million people on to Amsterdam's streets and canals.
The Whangarei version starts with a kids' market in which children can sell their old toys, make crafts or entertain.
Traditional games begin at 1pm, including such favourites as koekhappen ("bite the biscuit") and spijkerpoepen (ask a Dutch person to translate). Royal crafts and storytelling will help keep young visitors entertained.
Dutch delicacies on sale will include oliebollen (Dutch doughnuts), poffertjes (mini-pancakes), haring (pickled herring), broodje kroket (croquette rolls), dropjes (salted licorice) and cheese.
DJ Van Gaalen from The Hague will play Dutch music and after 3pm borrelen (drinks, mingling and possibly Dutch karaoke) is likely. A full bar will be available.
Co-organiser Monique Dane said this year's Holland Festival was especially significant because it would be the first time in more than a century that the Dutch had celebrated a king.
King Willem-Alexander was crowned last year, after the abdication of his mother, Queen Beatrix, ending a 123-year run of queens as the Dutch head of state.
The festival is called Koningsdag (King's Day) in the Netherlands, where it is celebrated on Willem-Alexander's birthday, April 27.
Entry is free to anyone wearing orange. Orange items are available at the gate for $2.
An exhibition by Northland artists of Dutch descent, Art Hollandaise, will open at the Quarry Arts Centre's Yvonne Rust Gallery at 11am.
It will run until May 16.
Go to Holland Festival 2014 Whangarei on Facebook for information or email hollandfestivalnz@gmail.com