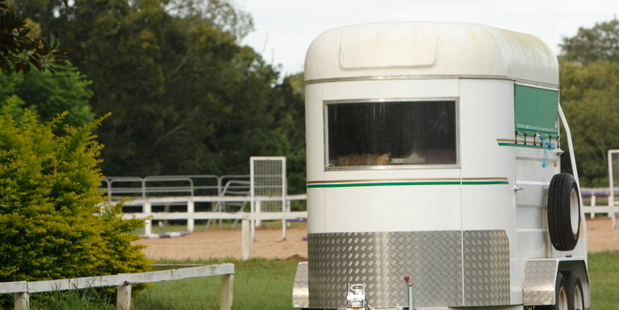 A Northland woman known for her "horsey" work in the community needs some new wheels to transport her equine friends.
For over 15 years Deb Williams has been sharing her knowledge of Natural Horsemanship using the "Parelli" method with Northland children.
She has never asked for anything in return, but the horse float she has used during this time has come to the end of the road and is going into retirement.
So those who know Ms Williams have started a fundraising campaign to buy a replacement horse float.
The Parelli Natural Horsemanship program uses an approach of communicating with horses based on natural equine behaviours, to achieve trust and respect in the horse/human relationship.
The methods she uses are based on the way horses act with one another within a herd.
"It's helped so many children to experience the unique and beautiful years of our horses swimming at the beach," Ms Williams said.
"We have given hundreds of children tail rides across the river and in the ocean.
"It's brought so many people together and we have an ever expanding community of friends."
The float is used to transport horses around the region to help with Ms Williams' equine lessons.
She said the horses gave children self-confidence while having fun through horsey adventures, with humility and kindness.
A group of parents who have seen the benefits their children have received from the programme have set up a fundraising website.
The target is $4000 and they have until April 14 to raise that amount on the Pledge Me site .
Pledge Me works on an all or nothing basis, so they need to reach the target to receive any of the funds.
You can help by becoming a Hero for the Horses and making a pledge at
www.pledgeme.co.nz/projects/1877.