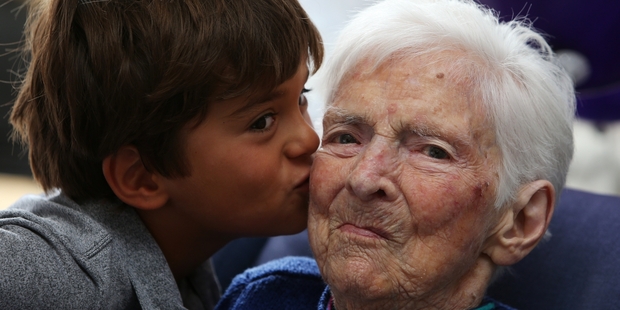 When 6-year-old Keio Mann turns 100 just like his great-nana, he expects to still be riding his bike and surfing.
His great-nana, Laura Wakelin, celebrated her 100th birthday yesterday at Selwyn Park Rest Home, in Whangarei, surrounded by 26 relatives, including Keio, her youngest great-grandchild.
Keio described his great-grandmother being a century old as "cool" - which is also what he wrote in her birthday card.
When asked what he'll be doing when he turns 100, he said, "riding my bike and surfing".
The pair first met when Keio was six months old at his christening, and have seen one another three or four times a year since. His favourite things to do with her are talk, hold her hand and cuddle.
"He is magic," Mrs Wakelin told The Northern Advocate.
Mrs Wakelin's three children - Eileen, Margaret and Ross - seven grandchildren and seven great grandchildren came from Wellington and Auckland for the celebrations.
Northland is a place of significance for the family. Mrs Wakelin, nee Bindon, was born on the Okaihau farm of her parents, Harris and Christina Bindon, on April 2, 1914.
Christina was the daughter of Angus and Mary Nicholson, who were both born on the Isle of Skye, Scotland, and who came to Waipu from Nova Scotia where they had married.
Laura was 21 when she married Tom Wakelin, who worked in the family stock and station agency founded in 1874 and the first such company in the north.
Tom was the grandson of a Northland pioneer, an earlier Thomas Wakelin, who migrated from Essex, England, to Auckland in 1860 and then to Whangarei where he first ran a butchery.
Mrs Wakelin's grand-daughter and Keio's mother, Sue Mann, said the Okaihau farm was always a base for the family. "Nana and Poppa were always exactly what I would have wished for in a Nana and Poppa. She's a good lady, a special lady," she said.