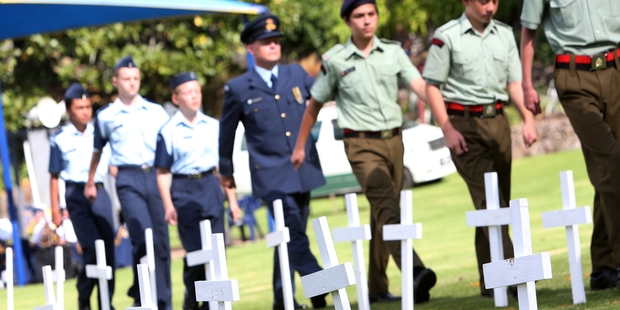 Organisers of Saturday's Field of Remembrance in central Whangarei were particularly impressed with the participation of young men and women in key roles of the ceremony.
Four hundred crosses were placed at Laurie Hall Park by schools, members of the armed forces, representatives from police and the NZ Fire Service, and war veterans.
A further 100 crosses will be added during the lead-up to Anzac Day on April 25.
Whangarei RSA Trust chairman Archie Dixon was delighted with the enthusiasm shown by young and old alike for the ceremony.
"Each year it seems that we've been able to add some new, innovative approaches and the participation of young New Zealanders in key roles of the ceremony was pleasing."
He particularly mentioned Campbell Clarke, head boy of Excellere College, who was the master of ceremony, and Joseph Faithful, head boy of Kamo High School, who delivered a speech on New Zealanders at war.
He gave the same speech at the regional finals of RNZ/RSA-ANZ national speech competition.
In her address, chief guest and Whangarei Mayor Sheryl Mai referred to the importance of the occasion as more than 250 students, war veterans, members of the armed forces and representatives of police and the fire service placed crosses.
The Whangarei Youth Music Concert Band played, with lyrics sung by a broad spectrum of age groups, from youths to senior citizens.
Mr Dixon invited extended families and others of those who had died in various wars to personalise the crosses over the next 28 days.
"We've documents on more than 600 people from Whangarei district that died in war and their families can personalise the crosses."
The crosses will be removed on April 28 - three days after ANZAC day commemorations in Whangarei.
The Whangarei District Council hopes to erect by ANZAC Day next year a permanent memorial at Laurie Hall Park to honour war veterans to mark the centenary of the Gallipoli landings.
The memorial will include names of 600 war veterans from Whangarei, especially those that died during and after WW II whose names have not previously been engraved in a memorial.
The Field of Remembrance will continue once the permanent memorial is installed. This year marks a century since the beginning of World War 1.