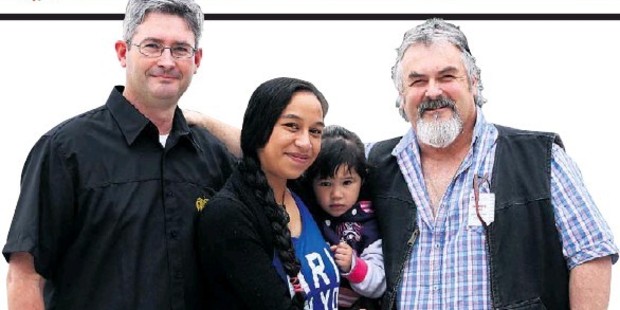 When Whangarei schoolteacher Graham Hughes leapt to the assistance of a young woman being violently assaulted in public by her partner, he was thinking "what if it was my daughter?"
That thought spurred him into action and, together with Whangarei mother Maryann Marsh and businessman Antony Coleman, he managed to stop the attack on Kamo Rd, which probably saved the woman's life.
The trio's bravery on February 14 earned them the police district commander's commendation certificate at a ceremony in Whangarei Police Station yesterday.
They stepped in to help a 21-year-old woman who had been put in a chokehold by her partner during a dispute near a bus stop.
Mr Hughes said he was on his way to his letterbox when he witnessed the violence.
"I thought 'what if it was my daughter?' and when I saw him [Mr Coleman] heading to the scene, it was like 'yeah, this is on'.
"There were some big fellas driving past and I just couldn't believe they didn't stop and help. If all had helped us, we could have pinned him [the attacker] down." He and Mr Coleman were also assaulted while trying to free up the young woman.
Mr Coleman said he felt he had to act because the situation was too bad to ignore.
He was driving back to Kamo and asked his wife to call police while he hopped out of his vehicle and headed straight to the scene.
A pregnant Ms Marsh was first to intervene and, in addition to receiving a punch in her stomach from the 20-year-old man, her car's passenger window glass was smashed.
She was on her way home and after hearing a woman's screams she pulled over near a bus stand, giving the man two warnings to leave her or she would call police.
"He slipped behind her, lifted her off her feet in a chokehold. She went red, dark red and then turned blue. He could have killed her," she recalled.
"I screamed for help and grabbed the girl and told her to get in my car and to lock the door.
"He came around my car and smashed the window and tried to slice her throat with the broken glass."
She too lamented the number of motorists waiting in a traffic queue who ignored what was happening.
On what prompted her to put her own life on the line, she said: "Her screams were not ordinary ones. This was the screaming for your life kind of thing. I thought I had to help."
Relieving district commander Superintendent John Price said nobody knew what the violent assault could have ended in but that the victim was alive because of the actions of the three people.
Meanwhile, police officers also received various awards yesterday.
See tomorrow's Northern Advocate for more details and pictures from the ceremony.