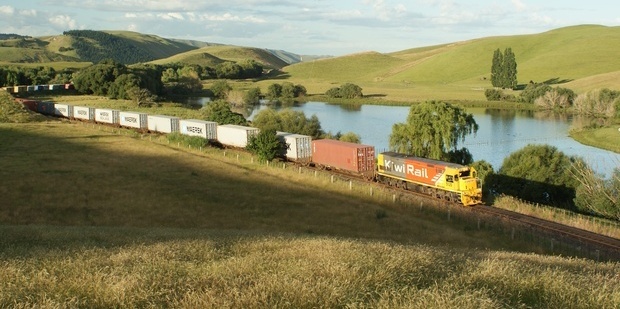 Removing asbestos from KiwiRail's 40 Chinese-built locomotives is taking longer than expected, but the continued suspension of Northland's train services is having little impact on industries affected.
Those most concerned about the withdrawal of Northland trains three weeks ago are the 32 Rail and Maritime Transport Union (RMTU) members who work on the region's railways and 18 members employed at Northport.
KiwiRail has been easing the suspension for Fonterra, providing weekend trains to carry Kauri dairy factory products to Auckland. One of these special trains will travel from Auckland to Whangarei overnight tomorrow, with services then to Kauri, Otiria and Portland on Sunday before returning to Auckland early on Monday.
Even without the weekend trains, only about 20 truckloads of Fonterra products need road transport south weekly. A Fonterra spokeswoman said the company was in close contact with KiwiRail, but the withdrawal of daily trains was not having a huge impact on the firm.
Similarly, log trucking companies are handling the extra work brought by the train suspension, with some logs stockpiled waiting for special trains like the one due at Otiria on Sunday and for normal rail services to resume.
The 40 Chinese-made DL locomotives do not operate on the Northland line as they are too big for the tunnels. But smaller engines carry 274,000 tonnes of freight between Whangarei and Auckland annually, with trains making two return trips five days a week. Those engines are now being used elsewhere while the asbestos-contaminated locos are worked on.
RMTU official Wayne Butson said more lines had closed since the rail industry was renationalised than in the previous nine years of private rail ownership and union members feared the present suspension of services indicated the line north of Auckland could be next to get axed.
Criticising the closing of New Zealand railway workshops and the procurement of "asbestos-riddled" locomotives, he asked whether railways would become the transport arm for Fonterra and a few ports or be developed to provide services for the whole nation.
Meanwhile, KiwiRail said tests showed the asbestos contamination risk in its DL locomotives was minimal. It was meeting union officials this week to reassure them everything was being done to get the locomotives safely back to work.
A fortnight ago the company said the locomotives were not expected to return to service for at least a week. Now they will be back "as soon as practicable".
Some KiwiRail staff have taken annual leave while the asbestos clean-up slows rail traffic, which the company and union said was standard procedure in their industry.