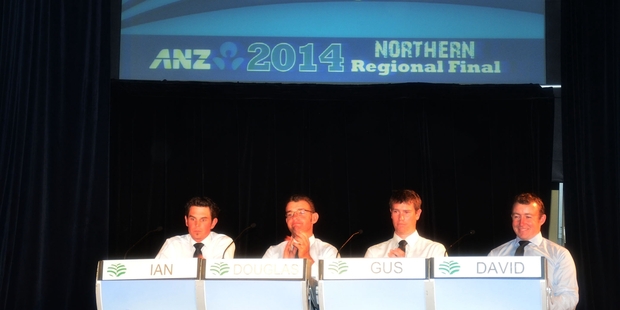 David Kidd will represent the Northern region in the ANZ Young Farmer Contest in Christchurch on July 15.
The 30-year-old sheep and beef farm manager from Auckland took first place in the contest's Northern regional final at the Kaikohe Showgrounds on Saturday, defeating Ian Douglas.
Douglas, 30, of Kokopu, had represented the Northern region and was sixth among the seven contestants in last year's grand final.
Kidd is following in the footsteps of his father, Richard, who had represented the Northern region and was third (on count back) in the 1984 Timaru Grand Final.
Douglas dominated the Lincoln University Agri-growth, Silver Fern Farms Agri-sport and Ravensdown Agri-skills competitions at Kaikohe on Saturday, but, by the evening, Kidd took the lead in the question round and secured the top spot by 13 points.
Douglas was runner-up with Angus Thomas, from the Franklin club, third and Douglas McGregor, from Bay of Islands, fourth.
Kidd was surprised to win by so many points. "It was exciting to be in the running when there were four of us left," he said.
His fiancee, Janine Sweeny, was his main supporter during his preparations for the regional final. The pair are getting married next month.
Kidd has a Bachelor of Applied Science degree and, when he is not busy on the farm, enjoys sports, shooting and training his work dogs. He went home from Kaikohe with a prize pack worth more than $10,000. At Christchurch in July, he will battle it out for the grand champion's title and more than $300,000 in prizes.
Meanwhile, a charity auction at the regional final raised more than $1700 for the Okaihau Breakfast club and the Kaikohe West School Breakfast Club.
And in another Young Farmer achievement, Isaac Vujcich, originally from Kaikohe, won the Canterbury/ North Otago Dairy NZ Trainee of the Year contest last week and will be in the national National Dairy Industry Awards final in Auckland on May 9.
For more information visit www.youngfarmers.co.nz