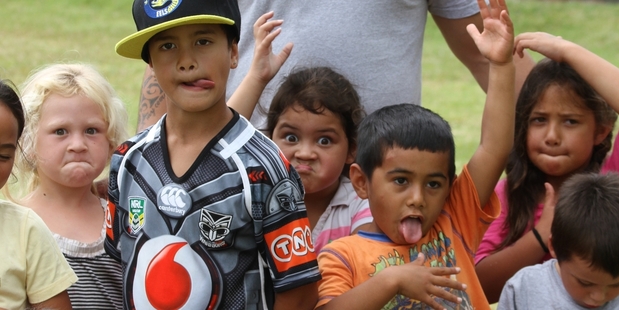 Stars of New Zealand's sporting and music worlds spent the day at a small Far North school in what is hoped will become a regular event.
Warriors fullback Kevin Locke and Nesian Mystics frontman Te Awanui "Awa" Reeder visited Pamapuria School, 10km south of Kaitaia, last week for its inaugural VIP (Various Inspirational People) Day.
New principal Rikki Horlock said the aim of VIP Day was "to inspire tamariki that they can be whatever it is that they want to be".
The guests arrived in Pamapuria on Tuesday for dinner with the school community at the Bushman's Hut.
Next day, they shared breakfast with staff and pupils before presenting the new student council with their badges. They then spent the rest of the day making sure they visited every classroom, dancing, playing games, signing autographs and generally entertaining the tamariki.
Reeder hails from Auckland and is of Ngai Te Rangi descent. Locke is of Tainui descent and lives in Auckland but has links to Awanui, where his grandparents, Bruce and Anita Harold, live.
He visits the Far North most summers.
He kept the new entrants entertained by playing "duck, duck, goose" and an energetic game of bullrush.
"I do this for the kids, it's awesome. I love kids and working with kids," Locke said.
Tamariki from Awanui School joined in with other schools keen to send their pupils to the next VIP Day.
Mr Horlock said he was planning a VIP Day each term. He had some rugby and netball stars in mind but would ask the children who they wanted to meet.
"The kids had a ball. Seeing how happy the kids just about brought me to tears. I'm glad we can bring this kind of expertise to our school and show our kids what is possible for them."
There was no let-up for Locke when he retreated to the staffroom to try to grab a spot of lunch. Then, however, it was star-struck staff and parents begging for autographs.
Year 1 pupil Kahlia Lloyd said she enjoyed dancing in the classroom with Awa, while Year 4 pupil K'Dence Harrison said: "I got to meet Kevin Locke and Te Awanui Reeder in person and they told me to follow my dreams."
Year 7 pupil Jayden Yates said: "It made me believe that I can achieve my goals and be anything I want to be."