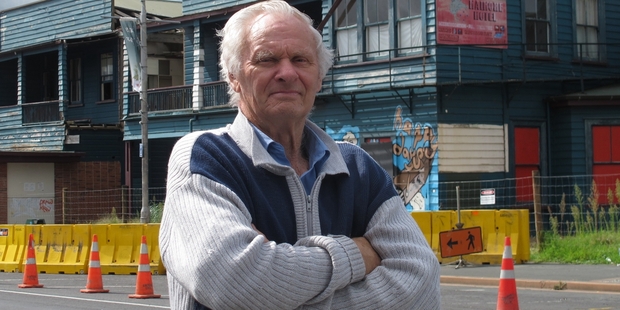 Kaikohe identity Shaun Reilly is calling for a last-minute stay of execution for the derelict Kaikohe Hotel, saying the building has historic merit and would make an ideal drop-in centre for youth.
However, any attempts to save the building may be too late. Demolition was delayed by the discovery of asbestos last September but finally got underway on Tuesday.
Experts are currently using a cherrypicker to carefully strip the hotel of asbestos before handing the rest of the demolition over to Okaihau firm Rintoul Civil.
Mr Reilly said he could accept the demolition of the now detached wing, but the main building was more than 100 years old and should be preserved. The downstairs bar area would be an ideal youth drop-in centre while upstairs could serve as backpacker accommodation. It could also house a restaurant employing the young chefs being trained at Northland College.
Mr Reilly said a retired architect with experience of restoring old hotels had put his hand up for the job.
Saving the building, however, would be a costly exercise. While thought to be structurally sound it is badly run-down and was stripped after last year's court-ordered closure.
The land and buildings were bought from the ANZ Bank in September by Te Runanga-a-iwi, which plans to grass the area over until it comes up with a plan for the prime Broadway site.
The Historic Places Trust's Northland manager is due to meet runanga representatives today to discuss the fate of the hotel, which was built in 1894.
The building has no legal protection. It is not registered with the Historic Places Trust, nor scheduled on the Far North District Council's District Plan.