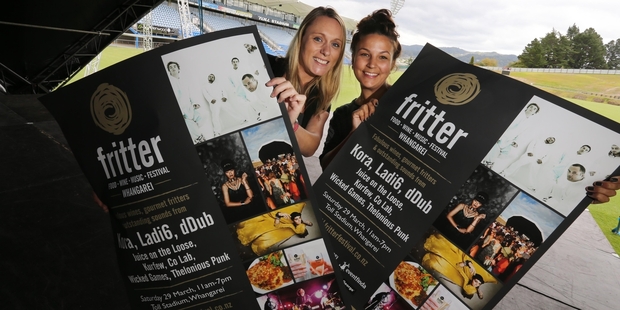 Northlanders can expect a busy weekend, with major events in Whangarei and Mangawhai.
The Whangarei Fritter Festival and Mangawhai Walking Weekend are expected to bring hundreds of people into the region and pump hundreds of thousands of dollars into the economy. Ticket sales for the Fritter Festival, which is in its second year, are up on last year, with the event expected to sell out with 4500 attendees.
"It's going well and the weather's looking great," said Venues and Events Whangarei marketing and events manager Rachel O'Gorman.
"There's a lot of hype out there about the festival - particularly on social media."
The festival had been estimated to bring close to a million dollars of economic benefits to Whangarei, based on a survey conducted on last year's attendees, said Venues and Events Whangarei manager John Lynch.
Last year's inaugural event attracted 3500 people, who were estimated to have contributed $772,187 towards the local economy. Last year's event "broke even" for Venues & Events Whangarei - a branch of the Whangarei District Council - and this year the organisation is aiming to make a small profit that would be reinvested in the Whangarei community, Mr Lynch said.
Headlining the 11am to 7pm event at Toll Stadium are bands Kora, Ladi6, dDub, Kurfew and Juice on the Loose, who will be joined by Northland acts Thelonious Punk, Co Lab and Wicked Games.
In Mangawhai this weekend is the 15th annual Walking Weekend, which has received over 500 registrations for a variety of walks.
"I can't believe 15 years have passed. We now have over 100 volunteer guides," said Jean Goldschmidt, a 76-year-old Mangawhai resident who started the event in 1999.
The weekend features over 30 walks throughout the Mangawhai and Bream Bay regions, which vary in difficulty and from one to six hours in length.
"They're all my favourite. I've done them all - every one in the programme," Mrs Goldschmidt said.
Also part of the Walking Weekend is the Art Trail, featuring the work of over 40 local artists, and the Mangawhai Food and Wine Festival on Saturday, with entertainment from Kiwi band Mermaids.
For more information visit www.mangawhaiwalkingweekend.co.nz
We have a Fritter Festival double pass to give away. To enter, name an act performing at Fritter on Saturday. Email editor@northernadvocate.co.nz and the winner will be informed tomorrow.