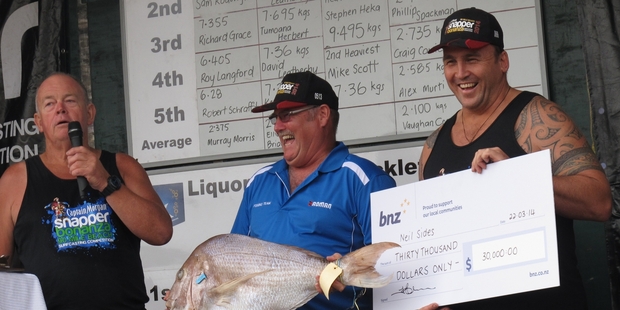 Far Northerners have won the two top prizes in the 2014 Ninety Mile Beach Snapper Bonanza.
Kaitaia mill worker Neil Sides pocketed $30,000 on Saturday for landing the heaviest fish of the tournament, weighing in at 9.995kg.
He hooked the whopper on Tuesday less than three hours into the tournament, giving his family a sleepless four-day wait while the other 700-plus anglers tried to land something bigger.
The top lucky draw prize, a Mitsubishi Triton ute, was won by forestry worker Simon Job, of Ngataki, about 60km north of Kaitaia. It is the first time the Bonanza's two top prizes have gone to Far North locals.
A beaming Mr Sides said he had yet to decide what to do with the money so it would go in the bank for now.
The winning fish was the only snapper he had caught all week. A veteran of 18 surfcasting contests, he said he would definitely be back next year.
"I love fishing. I love this competition, and I love the way it's organised," Mr Sides said.
He said he had not been anxious about losing his place at the top of the leader board, nor was he confident of winning. The same could not be said for his wife, Marion.
"He wasn't nervous but I was. I've hardly slept. I thought someone would catch a bigger fish and beat him," Mrs Sides said.
"Last year someone got a 10kg fish, the someone else got 12kg on the last day. We weren't sure he had it until 4.30pm struck."
Mrs Sides is keen to use some of the winnings for a holiday in Fiji or Rarotonga.
Simon Job, who was competing for the ninth time, failed to land a single snapper this year but that hardly mattered after he won a $48,000 ute. His three sons had already put their hands up for the new truck, he said.
"I'm over the moon. I never expected it. I would've been happy with any prize."
Northland MP Mike Sabin, who presented the prizes, said the contest came close to falling over last year "because of some bureaucrats and the way they interpret spot prizes".
"But a year's worth of banging heads together means there have been some changes and the competition can go on," he said.
Co-organiser Dave Collard said this year's Bonanza was the best yet for the number of contestants and the number and quality of fish caught. ''And the atmosphere has been absolutely brilliant,'' he said.
The event would be back next year with some changes but the basic format would remain.
Saturday's results
Heaviest fish: 1 Jeremy Alai, Auckland, 4.805kg; 2 Pania Cooper, Moerewa, 4.590kg; 3 Richard Grace, Wairoa, 4.310kg; 4 Ngaire Crewther-Job, Ngataki, 3.915kg; 5 Greg Gourley, Waihi, 3.77kg.
Average weight: Murray Morris, Matamata.
Overall prizes
Pak'n Save draw for a $4600 torpedo: Rena Parangi, Kareponia.
Ladies' average weight: Dioni Subritzky, Houhora, and Melissa Linn, Waiuku.
Teams average weight: Dave Rollo, Auckland.
Winning team: 1 Pete Hill, Murupara; 2 Milton Arnold, Kaitaia; 3 Mike Scott, Whakatane.
Average weight: Sam Veale, Palmerston North, Paul Visschers, Kaitaia, and Junior
Teaurima, Auckland.
Heaviest fish: Neil Sides, Kaitaia, 9.995kg.
Fish weighed in: Tuesday 376; Wednesday 274; Thursday (Reel Rods Day) 363; Friday 25; Saturday 41.