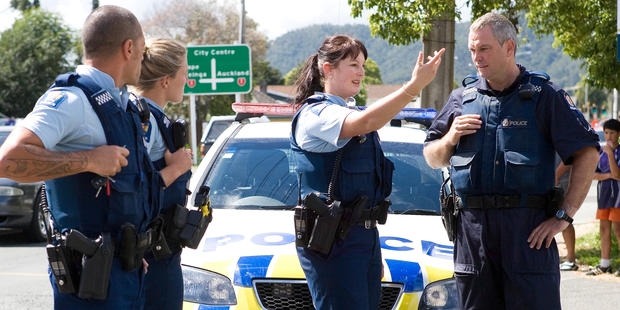 If anyone saw a young woman being forced to walk down Maunu Rd by a man holding her arm in a wrist lock and pointing a pistol at her back, Whangarei police want to know about it.
A member of the public reported that's what he had seen about 1.30pm yesterday, between Te Mai and West End Rds.
Police closed off Te Mai Rd to traffic and searched properties near where the pair, described as being in their late teens or early twenties, were allegedly seen. Firearm- and taser-wielding officers were unable to locate anyone fitting the descriptions they'd been given, nor had any local residents seen anything suspicious.
The road was reopened soon after. Among people who had to park on Maunu Rd while waiting to get into Te Mai Rd during the low key road block were members of the Whangarei Cloth Nappy Coffee Group, who were expecting about 30 people to join them at the Whangarei Parent Centre in Te Mai Rd to celebrate national Cloth Nappy Week.
Other people parked nearby included residents returning home but unable to drive into the street.
Sergeant Stephanie Hudson is asking anyone else who might have seen a woman being held at gunpoint in that vicinity or has any information that might cast light on the matter to call Whangarei Police, ph 430 4500 or the Crime Stoppers line, 0800 555 111.