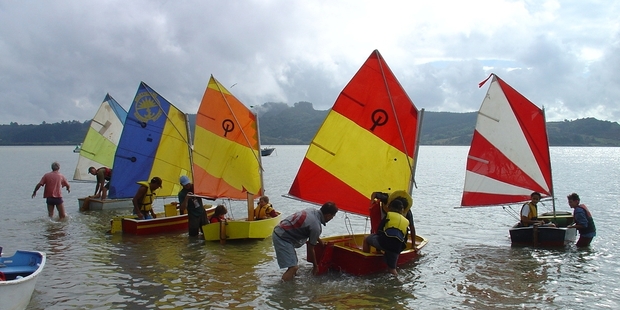 A Northland community's efforts to revive children's sailing have been boosted by an America's Cup syndicate.
Alinghi, owned by Swiss billionaire Ernesto Bertarelli, has donated a large steel shed to the Hokianga Sailing Trust, a group dedicated to spreading the love of sailing and giving youth a chance to try the sport. The Far North District Council has also come to the party with a grant of almost $90,000.
Project founder Rene de Vries, of Omapere, said kids' sailing had died out in the Hokianga until a few enthusiasts started the Hokianga Sailing Club in 2008. The club had six slightly battered, but serviceable, Optimist sailing boats and six Lasers for more advanced sailors. The problem was that the boats had to be stored outside, causing them to deteriorate. Mr de Vries talked about the club and its lack of accommodation when he was working as a physiotherapist for Alinghi during the 2007 America's Cup challenge in Spain.
That led, some time later, to the syndicate donating a shed intended for Alinghi's base in Auckland but never used. A team member transported the 7.5x16m shed to Rawene.
Mr de Vries said enthusiasts had been working for the past few years to revive sailing in the Hokianga and give young people something to do other than hanging around on the street.
Recently the project had "really started to roll", he said.
A community trust had been set up; Coastguard, the Fire Brigade, schools and other groups had got on board; and the council, on a recommendation from the Kaikohe-Hokianga Community Board, had agreed to provide up to $89,000. The council also allowed the club to lease a site previously occupied by the Rawene Rugby Club.
As well as a safe storage for the boats, the shed would be used as a workshop for repairs and boat building. It could also be extended to make space for a gym. The club ran weekend sailing lessons as well as school holiday programmes. Children currently taking part were aged 10-16. "We see it as a pathway to get these kids back onto the water. We hope some of them will keep going, maybe get scholarships, or even one day become America's Cup sailors," Mr de Vries said.
Community board chairman John Schollum said opportunities for sail and water safety training, particularly for children, had all but disappeared in the area until locals set up the sailing trust. "For the first time in many years we're seeing children and young adults back on the water," he said.
The trust hopes to start erecting the shed in the next few months.