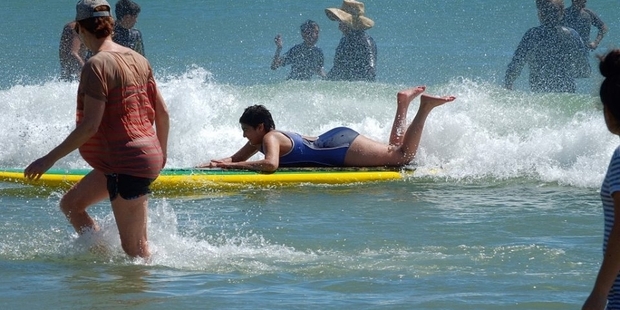 A group of disabled people is about to prove how true is the old surfing adage: "the best surfer out there is the one having the most fun".
They are of all ages and abilities who will have a go at an assisted Surf's Up day at Ruakaka Beach on Saturday.
The first board riding event of its kind to be held locally, it is being brought to Ruakaka by the Tokerau Beach Boys team, who work with Nga Mahi mo te Tangata Trust to organise the now annual SurfAbility days at Shipwreck Bay, Ahipara.
"Old surfie" Peter Furze said he was expecting about 20 participants and many helpers at the Ruakaka event he and his colleagues are organising, in conjunction with Tiaho Trust.
The disability surfing concept is being rolled out as a national Surf's Up Day, Mr Furze said. On February 1 this year Surf's Up was held at Ahipara for the third year in a row while the first event was held in Christchurch.
"We'll spread that out around the country as an export from the North," he said.
Earlier this month they also held a Surf's Day for disabled school students from the Far North, with senior PE students from the schools helping.
Friends, colleagues and organisations who care for physically and mentally disabled people are contacted before each event and invited to bring anyone interested. The surfers, lifesavers and enthusiasts help in the water, carrying the brave new surfers into the water if needed, and staying beside them.
The organisers provide the boards and other equipment but ask anyone with their own wetsuit to bring it, although there will be some available for those who don't.
After the series of four Ahipara events over the summer of 2013, one of the organisers, Jacqui Payne, held an exhibition of photos taken by herself, Gary Little and Belinda Mason-Lovering, at Kaitaia's Te Ahu Centre. Each photo told a 1000 words.
"It is a beautiful feeling to give such pleasure to those whose lives are often painfully restricted or limited by their disability," Ms Payne said.
"I swear that those old surfers often have a tear in their eye when they see the smiles generated by their acts of kindness. It is a very uplifting experience for all who take part, even those just watching."
A free BBQ will be provided for participants and volunteers at the Ruakaka Surf's Up which will run from 10am to 2pm, in front of the Ruakaka Surf Lifesaving Club.
*Registration is essential and can be done through Saffron Offen on (09) 430-3406 or email: saffron@tiaho.org.nz. Or, for more information and registrations, contact Gary Butt on 0274-907-607, Peter Furze on 021-2141487, or tokeraubeachboys@gmail.com