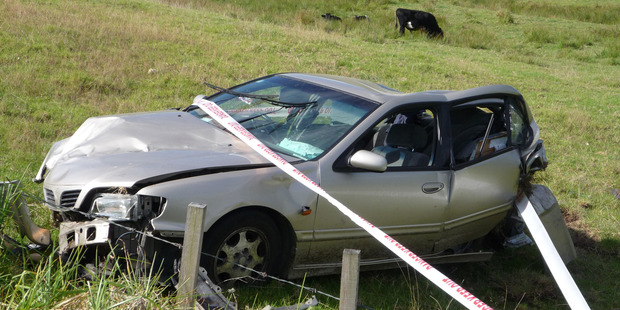 Alcohol is thought to have been a factor in a crash on State Highway 10 near Kaingaroa School, east of Kaitaia.
The accident was just one of five suspected drink-driving incidents in the Kaitaia area in three days.
Senior Sergeant Geoff Ryan, of Kaitaia police, said the 43-year-old female driver lost control on a moderate bend 750m east of Kaingaroa School about 4pm on Tuesday. The vehicle crashed through a fence, then flipped end over end.
She was taken to hospital but her injuries were not believed to be serious.
A few hours later, just before 7pm, another car crashed on Kaitaia Awaroa Road near the junction with Ahipara Road.
In that case the passenger felt the driver was too close to the edge of the road so grabbed the steering wheel. The driver over-corrected, slid into a ditch and flipped the car, which landed in a driveway.
Both occupants were taken to Kaitaia Hospital for check-ups. Alcohol was not thought to be involved in that crash.
The Kaitaia Fire Brigade was called to both accidents. Chief fire officer Colin Kitchen said the driver in the Kaingaroa crash was "very, very lucky", narrowly missing a couple of cars before ending up in a paddock.
About 7pm on Monday, a 33-year-old man stopped on Matthews Ave allegedly recorded an alcohol level of 1031 micrograms per litre of breath, almost triple the legal limit. Mr Ryan said the driver admitted drinking three boxes of beer before getting in his car.
At 12.10am yesterday police stopped a driver seen swerving as he exited Kaitaia's Kauri Arms Tavern. The 50-year-old allegedly blew 811mcg, more than double the limit. Other drivers tested on Sunday and Monday evenings blew 765, 728 and 442mcg.
Mr Ryan said he was bitterly disappointed that messages about the consequences of drink-driving were still not getting through.
"I'm angry about the level of risk these people are creating on our local roads," he said.