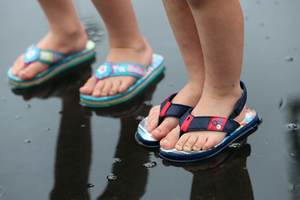 Northland is full of treasures, the richest being the people who make the region tick. The North's daily paper and biggest online news and comment venue, the Northern Advocate, is using its Facebook page to invite readers to share their thoughts about where they live and what matters to them. Every week on Advocate Facebook we'll ask readers about a topic, and reproduce some of their answers in our paper's weekend features pages.
The replies to our first invitation have been priceless - provocative, quirky and funny. Even the gripes carry an air of fondness. We thought we would launch this new forum with a blockbuster page. We haven't prettied them up at all so here you have - straight from the heart - readers' responses to:
"You know you're from Northland when ..."

Tanya Wright: When you see a "Hika Stags" rugby jumper in Brisbane and know where it heralds from.
Tony McAneney: When you drive passed Whangarei and the roads turn to crap.
Joyce Pavish: When you see someone outside of the supermarket trying to sell their green food card they got from winz hahaha.
William Morunga: you know your from northland when ... no matter how hard you try and say negative things about northland all you spit out is northland is awesome.
Petrina Platt: When people take too much kaimoana so have others "on lookout for the fisheries truck".
Tony McAneney: When I wake up in the morning look out across the water and its like glass and think cher I'm off for a fish ... Love this place Northland hard!!!
Justine Pou: You no what Bretherans are.
Jodi Williams: When you see someone at pak and save in their jammie's.
Roni Downs: It takes an hr to walk down the main street of your home town that only contains 30 shops max ... And wave like the queen to passing whanau lol.
Mike Te Mete: When it rains most days:-)
Regina Job: When you rock up to a party in a pair of red bands and a swanny lol.
Rob Fisher: You can draw the Poor Knights by hand without needing a picture to copy from.
David Hardy: When it doesn't matter if you kids forget to take their shoes to school ... Cos they never wear them anyway.
Stephanie Grant: The Advocate is delivered.
Jordan Ruka: When people wear slippers as shoes.
Graham Waru: When you get all excited when you see a Wendy's burger.
Chev Vette: When your more worried about someone using their indicator ...
Joseph te Puni: You see the Cambridge blue.
Marcus Nathan: When you still call it Okara park.
Shae Popata: When u see all the boats n trucks gassn up for fishing on a early saturday morning ...
Zoltan Culley: wen u see the kawakawa train.
Andy Mouat: You have several pairs of jandals ... one being your "flash" jandals!
Deke Strong: When u drive past otaika shops n theres kids in nappies walking around without parents and peps waitn for the bottlo to open at 10 .yeew!
Deke Strong: On a Tuesday, Wednesday, and thursday in there pjs.
Aj Peita: When you can still wear jandals singlet and shorts in winter.
Trish Kaea: You're the only one in Wanganui with a jersey on & everyone else is in singlets & shorts.
Elise Hansen: It rains and you don't rush out to the clothesline to grab the washing in!
Elise Hansen: You can't get a tradesman cause they're all out fishing.
Rose Neho: Cos no matter where you are ... you always meet some1 from up north ... its a bond northlanders have.
Leslie Poa: You've just arrived from Australia and your at Percy's Thomas's Fish Shop Kaikohe buying all the punnets of mussels and kina the smoked fish and fish and chips and finding the shadiest spot to eat it all in one sitting , chased down with L&P , yes that's how i know i'm home ... KAIKOHE ROCKS ..
Tarsha Kelly: It takes over a week to install a small trough in the dog park - one day to mark it out with spray paint, one day to lay the stones etc
Kareko Lemon: All the maoris you meet are your relatives.
Annette Hanley:Everyone knows ur business before yourself.
Dylan Rico Ihimaera: There's no earthquakes.
Anthony Quinn: U drive 30 mins to the dairy in the middle of April only to find out dey sold-out of zigzags.
Leeanne MacPherson: No pipe?
Anthony Quinn: Lol.
Lyn Campbell: You live in Perth and log on to read the Advocate every day.
Talya Marsh: Lols.
William Morunga: When TAB & KFC are used in one sentence.
Alison Davie: When someone says to you "I dont know anywhere in this modern day and age of travel that doesn't have a train go to it if it is a major town" and you can say "my town!!!!"
Yvette Burgess: You cant walk down the street with anything of any value, because someone will steal it off you.
Annalisse Shefford: When no ones on time!
Wayne Potter: When your piston broke ... all ways a uncle to give you a tow and aunty has a feed of fish heads. Haha.
Nathan Hayden: When traffic lights p u off haha.
Roni Downs: When the locals still use a horse as their primary source of transport.
Ian William Pritchard: Despite being the butt of the joke for most of the year, hordes of people south of the Bryderwyn's are busting their guts to spend their holidays in a place where we live all year! "Love it here".
Rachael Maclennan: When kids are sick on a weekend yr in for a long drive - and there are few jobs for our school leavers
Isabella Beazley: When everyone flocks to our surf/sand&sun and our roads have jammed up generally @ warkworth/wellsford and congestion lasts awhile ...