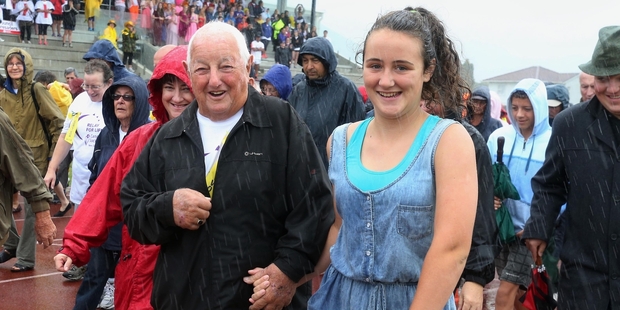 Nature has had four attempts at shutting down the Northland Cancer Society Relay for Life in Whangarei with cyclones.
But despite raging winds and rain, relay participants have kept walking, their spirits unbowed by the bad conditions.
Saturday's ninth annual Relay for Life at the new ASB Sports Arena athletics track at Kensington was typical.
Northland Cancer Society manager Margaret Curry said people were smiling, dancing and walking in "appalling" squally showers, which started when teams led by cancer survivors got on the track at noon.
"There was constant drizzle all afternoon. We didn't finish until 9pm and there were people on the track all the time, it was awesome," said Ms Curry, who has been with the Cancer Society for 14 years.
She was surprised by how many had turned up for the relay, with Cyclone Lusi hammering the North with high winds and big seas.
"We had 52 teams registered this year compared with 700 people in 46 teams last year, but some teams pulled out on Saturday because of the weather," she said.
Cyclones had dampened three previous relays in Whangarei but had hit the walkers at night, rather than before the event started.
It would take time to collect all the takings from Saturday's relay but they were expected to compare with the $100,000 average the society had received from each of the previous events.
The relay's focus was on supporting people with cancer and most of the money made in Northland would be spent on support work around the region, Ms Curry said.
About 1000 people were diagnosed with cancer annually, she said.
Relay for Life began in 1985, when Dr Gordy Klatt of Tacoma, Washington in the US, completed a 24-hour walk/run in recognition of all those affected by cancer, and asked friends and family to help him raise funds to support the work of the Cancer Society.
The first Relay for Life in New Zealand was held in Palmerston North in 2001. Whangarei's first relay, held at the Tikipunga Sports Park in 2006, was lashed by the tail-end of Cyclone Wati.
An estimated 1300 people attended the start of the relay and, although the crowd started to thin in the bucketing rain, walkers kept clocking up hard yards and one man ran 60 laps of the 400-metre track.
More pictures, A11