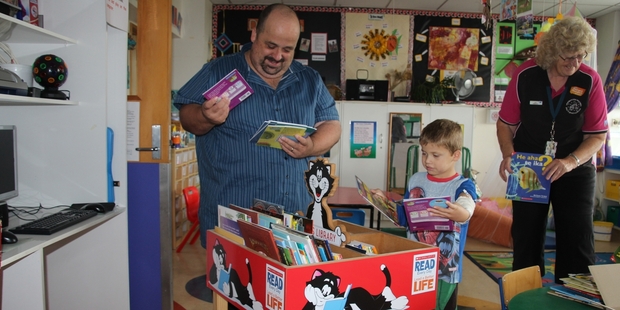 Sick kids at Northland's public hospitals have receivable help to keep any boredom at bay with the donation of 120 new books for the hospitals' children's ward.
During March Scholastic is delivering 10 new Lucky's Libraries to children's wards in hospitals throughout New Zealand - with five being in Northland.
Scholastic is donating the libraries as part of its mission to encourage young New Zealanders to "read every day, lead a better life" while spreading the joy of reading in New Zealand's hospitals.
Each custom-built library on wheels is packed with a selection of Scholastic's most popular titles suitable for all ages and interests - including classic New Zealand picture books such as Grandpa's Shed and Grandma McGarvey; beloved characters Clifford the Big Red Dog, Scooby Doo and Spiderman; as well as the most popular fiction series (Goosebumps and Babysitters Club) and non-fiction titles.
Scholastic Books in Homes manager Rob Southam has been passionate about this project from its inception.
"We wanted to ensure that books were available to Kiwi kids in hospital.
"We understand, as indeed all parents and adults looking after sick children do, that when there is stress and fear and boredom, when a child is out of his or her comfort zone and away from home and favourite toys and books, that a book provided in hospital will really help to brighten up a child's life," Mr Southam said.
The books were presented in Whangarei on Monday and blessed in a special ceremony from the play specialists. Play specialist Karen Parker says parents and children are very excited to see all the fantastic books in the Lucky Library.
"The patients are enjoying quiet reading times in the rooms with parents, after having looked through the trolley and chosen their books.
"What amazing books we have been given - there is a book that would cater for every child's interests."
The five Northland public hospitals to receive the book donations from Scholastic this week are Whangarei, Dargaville, Bay of Islands, Kaitaia and Hokianga.