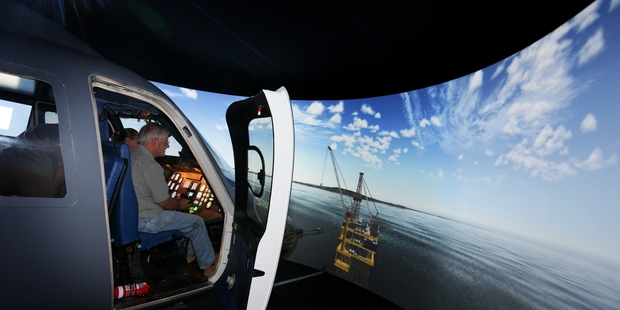 A team of Northland rescue pilots completed a mercy dash to a naval ship near the Poor Knights and airlifted a patient off an oil rig near the Hen and Chickens Islands yesterday.
Both scenarios were training flights completed on the only multi-engine flight simulator in New Zealand, which has been the result of hard work and a "can do" attitude by people with Northland's Emergency Services Trust (NEST) that runs the region's rescue helicopters.
Chief pilot Pete Turnbull, with thousands of flying hours under his wings, said the simulator was the best he had tried from eight around the world.
"We have gone for the best software and it's the best I have tried," Mr Turnbull said.
To buy an operating simulator could cost up to $1 million, but over the course of a year the Northland team have made the complete package for $150,000.
"Now we can practice in more extreme conditions with no risk to crew of the machines."
For example, a routine trip from Whangarei to Auckland could become much more testing in the simulator with storms, white outs and engine failure all part of the mix.
The body of the helicopter was part of a wreck bought by NEST after the Japanese Coastguard aircraft was damaged in the 2011 tsunami. It was stripped out and the interior made to replicate the Sikorsky helicopters used by the rescue team in Northland.
Mr Turnbull said the finished simulator was the result of hard work and ingenuity by a group who wanted to make the idea reality.
"NEST has a bit of a physiology of 'we will do it' and we just made this happen. It was a pretty ambitious idea and at times we wondered why we had even started," he said.
"We worked as a team and sorted it out."
The simulator is housed in a 10m x 10m room inside a hangar at Whangarei Airport.
Five computers run three projectors, which cast images on to a 270-degree screen.
While the helicopter remains static it feels and sounds like the real deal. The result is amazing and realistic. It's even possible to suffer air sickness.
"I'm impressed with the authenticity of the geography and helipads we have to land on," Mr Turnbull said.
The simulator will help reduce the cost of training pilots by thousands of dollars. It's expected other pilots from around the country will be prepared to pay to gain experience in the simulator. The Civil Aviation Authority has certified the simulator for instrument flying training.