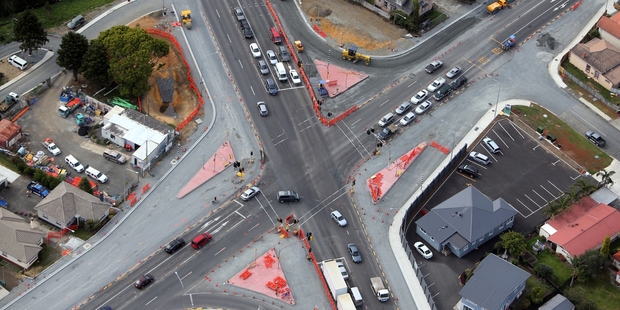 The massive job of upgrading the junction of two state highways in central Whangarei is heading toward the home straight.
NZ Transport Agency Highway Manager Tommy Parker said the project at the Maunu Rd and Western Hills Dr intersection had gone well considering its size and the potential for major traffic disruption. It is pegged to be finished in early May.
Mr Parker said one of the biggest roading jobs undertaken in Whangarei for some years could not have gone so smoothly without the patience and goodwill of road users and residents.
"It is never easy undertaking a project like this - keeping a busy state highway intersection open while we make it safer. We do everything we can to minimise any disruption and keep noise levels down," Mr Parker said. "One of the reasons for the success of the project has been the support we have had from all road users - those who drive, cycle and walk - and from people who live near the intersection."
Whangarei District Council has also acknowledged the role the public has played in enabling the job to get done.
"It's been a huge job," spokeswoman Ann Midson said. "We've all noticed how NZTA has adapted their plans whenever there's been too much congestion and we've noticed how patient motorists have been, but we're certainly looking forward to the completion of the job in May."
Temporary sealing will be carried out over the weekend of March 29 and 30 to protect the road before the final surface is laid, starting on April 28 and continuing at night until the commissioning of the intersection, planned for May 3.
Hold-ups or changes in the six-month programme have included a lightning strike in late September that knocked out the lights and a forecast rain storm in December bringing forward the replacement of old sewer and water pipes, pinching the road to one lane and creating major traffic congestion.
As well as widening the road and reconfiguring the layout, the project involved relocating or protecting all overhead power and underground services, such as gas, water, sewer and storm water.
"The greatest unknown when undertaking this type of work is the underground services and associated challenges that come with it," Mr Parker said.
The job is part of a five-phase project to widen the state highway and its access points at Tarewa Rd, SH1/SH14/Maunu Rd, Selwyn Ave to Wilson Ave, Wilson Ave to Fourth Ave, and Kensington Ave to Manse St. The next stage of the project will be Wilson to Fourth Ave.
NZTA will be holding another open day where information is available to the public in the next few weeks. NZTA was unable to supply a cost for the Maunu lights intersection at this stage, but in 2009 said the total cost of all five projects to upgrade SH1 through Whangarei was $20 million.