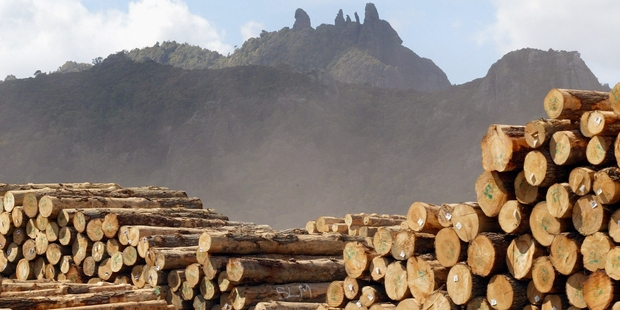 A fisherman on a launch which narrowly missed a night collision with a floating log has highlighted the danger caused when logs fall into the sea while ships are being loaded at Marsden Pt.
Kamo orchardist Bryan Keyte said in a letter to the editor of the Northern Advocate that he was on a 13-metre launch which left the Marsden Cove marina about 8pm on February 23 to do some night fishing when a log was seen falling into the water while a ship was being loaded at the Northport wharf.
When the launch returned at 10pm it had narrowly missed hitting a large log floating off the marina entrance.
The next morning, while launching his runabout at One Tree Point, Mr Keyte had seen a log floating down the harbour. He called Northport, which had sent a contractor to recover it.
Mr Keyte said many boaties used waters around the Whangarei Harbour entrance at night and floating logs could cause a fatal accident.
"Lives are at risk," he said, questioning safety procedures when logs fell from the wharf.
Northland Regional Council (NRC) deputy harbourmaster Chidambaram Surendran said the port company had recorded 105 logs falling into the sea from the wharf in 2012 and 96 recoveries.
A harbour safety group including the harbourmaster, Refining NZ and Northport had drawn up rules for maritime safety, which included Northport having a contractor who recovered logs from the sea, diving for them if necessary.
Mr Surendran said the logs could be a significant navigational hazard late in the evening. If members of the public saw logs in the water they could call the NRC 24/7 Environmental Hotline 0800 504 639 for a warning to be broadcast to boaties.
Northport CEO Jon Moore said 2.4 million tonnes of logs had been shipped out of Marsden Pt last year. About 250,000 tonnes were loaded monthly and if 10 slipped from crane grapples into the sea while loading it was a "bad" month.
He had been harbourmaster at Tauranga about 10 years ago and could recall 100 logs falling into the sea in a day down there.
Stevedores reported lost logs to the wharf gatehouse, who called out the contractor to recover them.
Crane operators often didn't know exactly how many logs were dropped so the 105 reported lost last year could have been overestimated.
"The contractor invariably recovers the logs," Mr Moore said. "There might be a rogue log which escapes and if a member of the public sees it and calls Channel 19 harbour radio on (09) 432 5018 we will warn boaties about it."