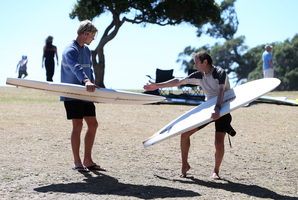 A non-competitive and non-commercial surfing event is bringing people from all over the world to Waipu Cove to connect and share stories in New Zealand for the first time.
The Cove Fish Fry has been organised by surfing enthusiast Michael Cunningham from Whangarei and will run at Waipu Cove on March 9 from 8am.
After attending six fish fry events in Australia, Mr Cunningham thought it was time to bring the gathering to New Zealand and Waipu Cove was the perfect spot.
"It's a gathering of like-minded people.
"It's not a mainstream event it's not for mass-producers of boards. It's for your average surfer who loves surfing."
Mr Cunningham's approach to spreading the word about the event mirrors the values of the event. The event has been shared organically around the world through social media interest and word-of-mouth, rather than a big marketing campaign.
Six months ago Mr Cunningham, who works as senior photographer at the The Northern Advocate newspaper, launched the Cove Fish Fry blog, and from there international surfers and shapers have been in touch to confirm they'll be attending the event.
He has taken advice from one of the organisers of the first fish fry in San Diego.
"The thing he said was keep the Fish Fry format as original and as simple as possible. Because what it is is a gathering of people in a park. Don't go crazy and spend lots of money and have peripheral things like stalls and stuff happening."
Mr Cunningham encourages people to come with their kids and a picnic and enjoy a day at the beach meeting and talking to other people, and even try riding a totally different style of surfboard, whether it be fin-less, a fish board, or a traditional Hawaiian paipo.
"Come to the place, bring a surfboard, your family, some lunch and stories.
"Hopefully people come away from it with a buzz about the different directions in surfing you can take and how you can make your own equipment because there is nothing more exciting than riding what you have made."
Fish fry events happen in the US, Japan, Australia, Indonesia, Ireland and many other countries, and could happen in other parts of New Zealand too.
"I've already have people interested in starting a South Island one, which I really support."
There will be collections of surfboards from local enthusiasts on display and anyone making surfboards in their backyard are encouraged to bring along anything they have made.
Surfing is popular in Whangarei for many reasons, Mr Cunningham says.
"We get regular surf, and the surfing conditions are reasonably friendly - kids right through to experienced adults can surf the waves.
"There's a real mix of different types of surfers on different equipment on any given day."
Follow the event from this year in to the future at http://thecovefishfry.blogspot.co.nz.