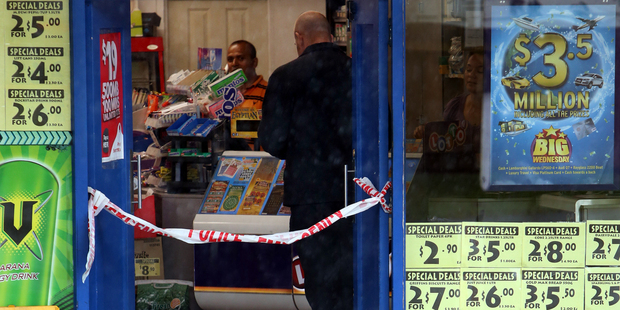 A Whangarei man who came into town to get a WOF ended up coming across an armed man who was fleeing a dairy he'd just robbed.
An unknown amount of cash was stolen by a man who went into the Korna Store dairy, on Morningside Rd, about 10.25am, leaving the owners upset. It was the second time they'd been subjected to an armed robbery in less than two years.
Whangarei police Detective Evan Phillips said the male dairy owner was the only person in the shop when a man, armed with a weapon, went into the shop and demanded money.
A witness to part of yesterday's drama was a Maungakaramea resident in town getting a warrant for his vehicle and trailer.
"I came down the road and was stopped by the traffic island to turn into Kaka St when I saw a man running down the road towards me," the man, who did not want to be named, said.
"There was this guy in dark clothing who appeared to be running with something in his hand and I thought it was pretty suspicious.
He leapt into a white car that sped off."
He was aware of the aggravated robbery of the Otaika Lotto and Post Shop last week and said the number of robberies in the Whangarei area was "ludicrous".
"It sickens me all these robberies," the man said.
Police were still establishing what weapon was used in yesterday's robbery and the amount of cash taken.
Police appealed for anyone who was in the Morningside Rd area about 10.30pm yesterday to contact Detective Evan Phillips on 09 430 4500.
The robber took off in a white station wagon, possibly a Ford.
Yesterday's raid was the second armed robbery in Whangarei in less than a week after two men walked into the Otaika Lotto and Post Shop, on Otaika Rd, about 4.35pm on Friday armed with a gun and demanded money from the store workers before fleeing. One of those alleged robbers has since been caught and police are looking for the other man. The maximum sentence for armed robbery is 14 years' jail.
In June 2012, armed robbers raided the Korna Store while one of the men held a metre-long machete to the couple as their 9-year-old son looked on.
Three thieves, all covering their faces, entered the store. One of the men was carrying a machete with a blade about a metre long and he pointed it at them and took cash and cigarettes.
Nobody has been arrested for that robbery.