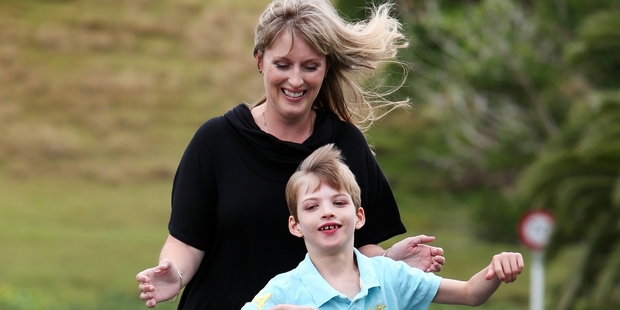 The story of Whangarei boy Harvey Ellis can now be seen around the world, giving parents of children with complex needs due to disabilities hope for the future.
Seven-year-old Harvey has a rare genetic condition called Cri du Chat syndrome, also known as chromosome 5p deletion syndrome, a combination of both intellectual and physical disabilities. 'Cri du Chat' means 'call of the cat' in French, referring to the characteristic cat-like cry of affected children.
Harvey and mother Jo Ellis are the focus of a new online movie created by the Complex Care Group, a support and information network for carers who look after young people with complex needs. The seven-minute movie features the pair in their Waikaraka home, while Ms Ellis discusses how Harvey has been affected by Cri du Chat, day-to-day life with him, and how her life has changed.
Harvey took his first wobbly independent steps last year when he was 6, and remains mostly non-verbal.
"Everything in Harvey's world takes time and huge amounts of effort."
Ms Ellis was motivated to film the video to help increase awareness of Cri du Chat, and inspire other parents of children with complex needs.
"I am always open to the opportunity to share our story and to give hope to other families that face daily challenges," Ms Ellis said.
"Also for people to be aware about the support group, and to show people that there is a way to see the positive side [of living with a child with complex needs]."
The short movie is able to be viewed by family, friends and support group members around the world, she said.
"It is an opportunity for many to see Harvey's progress and to appreciate the hard work that he, family, specialists and therapists have put in to-date," she said.
"[And feedback's] all been positive, from people that don't have kids with disabilities, who stop and think, 'maybe I shouldn't complain so much', to the people in the support group - they seem Harvey's progress and it gives them hope.
"It made some people stop and take stock of what they had and to appreciate more things in life," Ms Ellis said. The new video about Harvey and Jo can be found on Complex Care Group's website and YouTube.