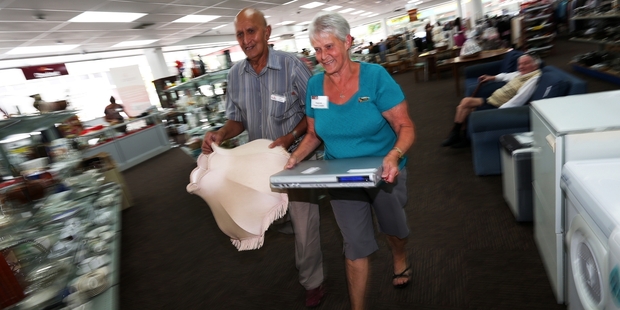 North Haven Hospice Shop team leader Noeline Holland loves volunteering her free time to the charity as she gets so much out of it, but she's surprised to learn that up to 20 per cent of Northlanders also do unpaid work.
When it come to giving up their time to help others, Northlanders are the most generous in the country, with Census data showing one in five of us do voluntary or unpaid work.
When the Census was carried out last year, nearly 20 per cent of Northlanders said they did voluntary unpaid work with an organisation, group, or marae in the four weeks leading up to census day.
"That's around 20,300 people lending a helping hand - the highest proportion of all regions in the country," Census statistics manager Gareth Meech said.
Mrs Holland started volunteering at Hospice nearly eight years ago after her brother-in-law was looked after by North Haven.
"I heard an ad on the radio for volunteers so signed up. It's giving back after they helped my brother-in-law ... and I love it," she said.
"You meet new people all the time and Hospice is like a big family. You get to know a lot of the customers and you wake up in the morning really looking forward to coming in - it's totally different from having to go to work."
Mrs Holland knows what she and fellow Hospice Shop volunteer James Broughton get out of donating their time to the charity, but she was surprised that so many of her fellow Northlanders do the same.
"It's great to know though that there are so many people out there doing it. But the support from the public for the Hospice shops is amazing, there's always plenty of things being dropped off for us," she said.
That was a sign that the community thought highly of charity organisations.
Store manager for the Whangarei and Waipu Hospice shops, Kathy McMilllan said she had about 120 volunteers giving everything from a few hours to several days, but there was always the need for more. Anybody wanting to volunteer at Hospice shop should call in for an application form. There are plenty of other organisations in the North also needing people to help out.