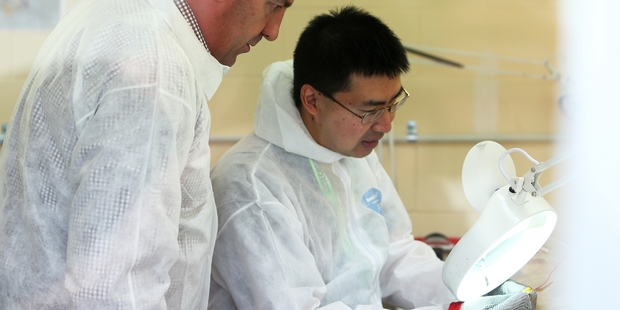 Whangarei residents have dropped off around 8 tonnes of fruit for inspection during the city's Queensland fruit fly scare, with the response amazing the man at the head of the biosecurity operation.
A team of up to 120 Ministry for Primary Industries and AsureQuality staff have been working in Whangarei for the past two weeks, since a single male Queensland fruit fly was found in a garden in the Riverside/Parihaka area of Whangarei on January 21.
If more fruit flies are found the Government may have to mount a massive spraying and eradication programme to protect the country's $4 billion horticulture industry. But as of yesterday, no more had been discovered.
People cannot take fresh fruit or vegetables, other than leafy and root varieties, out of the 1.5km circular-controlled area called Zone B. In the heart of that circle is Zone A - ground zero, where a 200-metre circle extends from the property where the fruit fly was found.
The ministry has put in place a number of bins around the zones for people to drop off fruit that has fallen from trees in their gardens.
Deputy director general of the ministry, Andrew Coleman, was in Whangarei yesterday to update stakeholders - including the horticulture industry and iwi - about the operation.
He said he was amazed at the response of locals.
"We've had a huge, huge success, particularly with the drop-off bins, and so far there's been very few people who have objected to the restrictions.
"The community up here have been very positive in supporting [the biosecurity operation]."
Mr Coleman said if no more fruit flies were found by the end of tomorrow it was likely the biosecurity response would be called off.
"We have to wait two weeks from checking of the traps we set up after the initial find. That's the international standard and will take us to the end of Friday," he said.