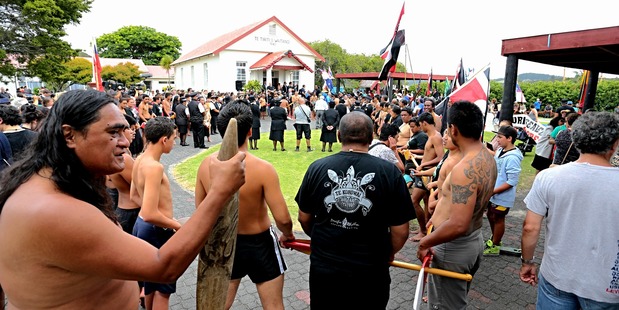 Prime Minister John Key, whose speech was drowned out by the throngs singing outside Te Tiriti o Waitangi Whare, has told the gathering that Maori are better off under a national government.
Mr Key said Maori had gained in education and employment since national had been in power.
He said oil exploration was for the benefit of New Zealand and despite concerns from protesters opposed to deep sea mining, he said there was nothing to fear.
"Do you seriously think as Prime Minister I'm going to oversee some kind of economic carnage of our country," Mr Key said.
He left the whare again accompanied by Titewhai Harawira and her daughter Hinewhare, whom he could be seen laughing with
A protester threw a bag of pilchards in the path of Mr Key as he left Te tii Marae but missed miserably.
He later told Tautoko FM in Te Reo that he was making a statement about the environment.
Mr Key received some taunts as he arrived.
Speaking to reporters after Mr Key entered the wharenui, New Zealand First leader Winston Peters said it hadn't been as bad as some expected.
"But the reality is the people are putting on a reception for their guest. There are protocols and there are people abusing those protocols and we shouldn't tolerate it."
Joel Bristow, a spokesman for the hikoi group which marched from Cape Reinga to Waitangi, addressed Mr Key within Te Tiriti o Waitangi House.
He said his group wanted to raise awareness about the "high risk and untested" deep sea drilling in the Far North.
"We don't have a second chance," he said
"Do we want to be creating historical creations or do we want to be creating historical devastation."