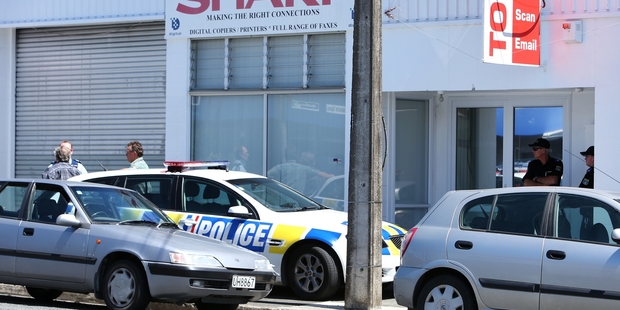 In what is believed to be a first, the Northland Regional Council has used police and security guards to take possession of a Whangarei commercial building because the tenant had not paid rates for two years.
Using a team of private security officers to enforce a High Court ruling, the NRC moved into the Northland Copier Services premises at 46 Hannah St in the city centre early on Tuesday, changing locks and barring company managing director Stan Giles and his staff from the building. Mr Giles claims he has a licence to occupy the building from a Maori society.
Police were called in the afternoon after the building was entered through a skylight. No one was arrested.
While this appeared to shut down the company, manager John Raine said it was still "business as usual" for him and other staff, who were continuing to service customers' copiers.
It is understood to be the first time the NRC has used police and security officers to support council action against a tardy ratepayer. The move followed the NRC being required as landlord to pay Whangarei District Council rates owed on the property.
The NRC said in a statement that Mr Giles and other trustees of the Magna Trust leasing the property owed $9568 in unpaid rates. A lawyer's letter sent to Mr Giles last Friday put the trustees' "outstanding obligations in accordance with the lease and costs" at $11,990.
The lease was cancelled and possession of the property was granted to the council in a decision handed down by Justice Rebecca Ellis in the High Court last month.
The decision said the trust's position was that it did not need to pay the rates because it had "negotiated" a position with the NRC and/or the Whangarei District Council whereby it was required to pay only $1 a month.
Trustees believed their analysis of the Bills of Exchange Act 1908 and steps they considered conformed with the act discharged their liability to meet the full costs of the rates, the judge said.
"It is clear to me their analysis is simply untenable. A rates demand cannot be negotiated," Judge Ellis said.
Mr Giles, who represented himself in court, said an appeal would be filed against the High Court ruling. He claimed He Whakaputanga - the 1835 Declaration of Independence - had never been overturned by English law, chiefs of the United Tribes retained sovereign power and 46 Hannah St was still legally in native title.
Mr Giles said he had a licence to occupy 46 Hannah St issued by Nga Tikanga Maori Law/Lore Society, following a meeting at the Ngapuhi Marae a year ago.