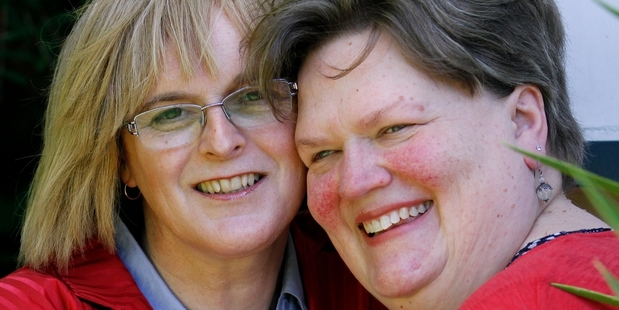 New marriage laws mean Whangarei lawyer and transgender advocate Kelly Ellis can marry the woman she loves, for a second time.
The criminal lawyer and aspiring Labour candidate had to end her eight-year marriage to her wife, Kelly Ewing, in order to change the gender on her birth certificate to female.
But with last year's marriage-equality law change, the couple - now in a civil union - can legally tie the knot again and the big day has been set for March.
"That has now cleared the way for me to re-marry the woman who is currently my ex-wife, my civil union partner and my fiancee," Ms Ellis said.
Her sons, aged 18 and 21, will be among the wedding guests. But it has been a long and costly road to re-marriage, made possible only by legislative change.
When Ms Ellis changed her recorded gender in 2011, the law would not allow the couple to stay married if she and her wife had female birth certificates.
"In those days the sky would have fallen and the earth would have tilted off its axis and swarms of locusts would have swept the Earth, so in order to get congruent identification documents, I had to end the marriage to my wife," she said.
They could have divorced or had an annulment, but to stay together they chose a civil union: "To be perfectly honest, I was a bit grudging about it ... I'm putting the best face on it, and I'm going to enjoy getting married again. But in a lot of ways, the civil union felt more like a funeral than a celebration."
The couple are looking forward to throwing a big party with about 70 wedding guests.
Ms Ellis, a member of TransAdvocates who has been fighting for transgender prisoners' rights, said it was important to have a passport that accurately reflected who she was.
She is seeking Labour's nomination to contest the Whangarei seat this year.
"I'm a good scrapper and a good advocate ... I've ended up with people wanting me to have a crack at the Labour Party candidacy here.
"But the sad thing is that, inevitably, people seem to only be interested in the fact that I'm transgender and the fact that I've had a bit of difficulty to legally hang on to my wife."
APN News & Media