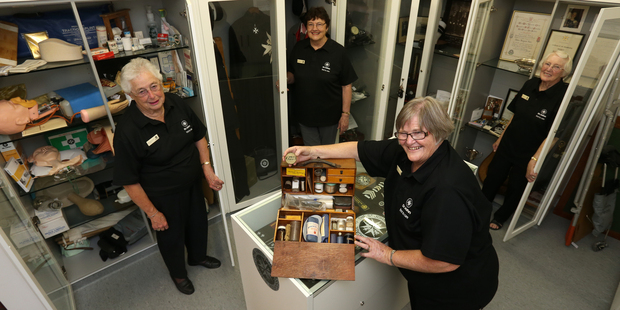 Witty doctors' letters and articles about their reluctance to travel out to Hikurangi are among items found showing the St John's presence in Whangarei as far back as the 1890s.
Members of the Whangarei St John Hospitaller Club have sorted through documents and discovered an 1891 Income and Expenses for First Aid Balance Sheet, as well as clippings from the Northern Advocate and entertaining letters dating back to 1891.
``Finding those pieces of paper was amazing. They've lasted all that time,'' says Hospitaller chairwoman and former St John superintendent of the nursing division, Nancy Greenfield.
They were found in a box in the roof of the Western Hills Dr St John building, and must have been moved there when the organisation moved from its old premises in 1978.
``They were just like pages ripped out of an exercise book - it would have be so easy to just screw them up, but then we noticed the writing and then the dates,'' Mrs Greenfield said.
The Whangarei St John Hospitaller Club started working on collating the items for the archives room five years ago. The room - which is nearly finished - includes items such as old mannequins, uniforms, medals, badges and medical supplies.
Mrs Greenfield's favourite items would have to be the early documents. ``It's the early-date stuff. [And also] the equipment they used in the ambulances. Some of that equipment had to be serviced in Auckland, and had to go down by train.''
``In the 1960s doctors didn't like to travel to Hikurangi because of the distance - especially weekend calls.''
``We're all so used to the 111 telephone service _ that was introduced in 1980. Prior to that, they would need to have people manning phones, [and] after hours the ambulance driver would get the line transferred to his home.''
The club has collated a 140-page long timeline, mapping out events from 1891.
Some newspaper clippings however have no dates attached, so it's been a case of matching them to the timeline, Mrs Greenfield said.
And a lot of the names in many of the documents are common names around town and on street signs, she said.
If anyone can help with identifying names and people in photos, or has more items that could be helpful to the Hospitaller Club, please contact St John on 437 2199.
The archives room is open to the public for viewing provided no-one is renting the adjoining hall, Mrs Greenfield said.