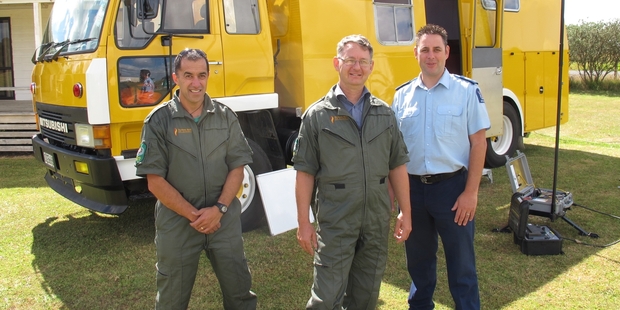 The next time the Far North is hit by a major fire, disaster or whale stranding, emergency workers won't have to huddle in the cabs of their utes or a creaking 1950s truck while they're organising a response.
That's because the district has just taken delivery of a new command and control unit, a truck fitted with the latest in IT and communications equipment.
Although owned by the Northern Rural Fire Authority, it will be available to any group that needs it. As well as providing a command centre for firefighting, it can be used at whale strandings, search and rescue operations or natural disasters. Its first use is likely to be as a St John base at the upcoming Waitangi Day celebrations.
Principal rural fire officer Myles Taylor said it was more than just a fire truck. "It sets us up for big campaign fires that take days, weeks or a month to put out."
The truck included radios for police, fire, Coastguard, Civil Defence, the Department of Conservation and forestry, as well as internet and a satellite phone. It will have its own generator, work stations for four people, a GIS mapping system, full copying and printing facilities, and live weather updates.
The new truck will allow the authority to take quicker control of emergencies and make it more independent, because it will no longer have to rely on schools or community halls as bases. The former Fire Service truck cost the authority just $9.50, the cost of the new ownership papers. The authority then spent $50,000 refitting the 1988 Mitsubishi truck.
Equipment provided without charge by other organisations - including the Fire Service, Coastguard, Civil Defence, DoC and forestry, as well as competitive rates offered by local tradesmen - kept the costs down. The truck is 4.5m high counting its aerials, 12m long and weighs 8.3 tonnes. It replaces Buttercup, a 1950s truck which Mr Taylor joked was so slow it was fitted with a calendar instead of a speedo to help firefighters work out when they would arrive at a blaze.
The Northern Rural fire authority follows the same boundaries as the Far North District Council and is the busiest fire district in the country.