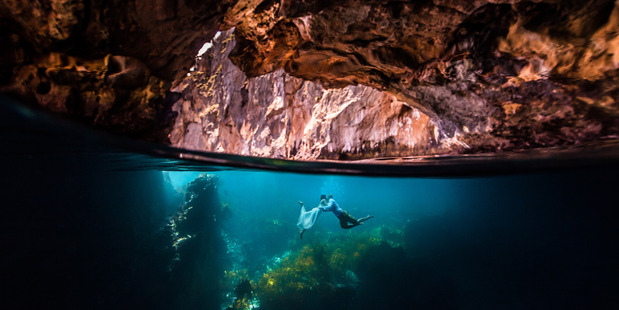 When your husband is a skydive instructor and you spent your summers as a teenager at the Poor Knights, a traditional wedding photoshoot isn't going to cut it.
Shayni and Micah Couch were wed on the Tutukaka Coast on January 10 with guests who flew from all over the world to experience the bride's home country.
The following day, Dive! Tutukaka took all the wedding guests out on Perfect Day and wedding photographer Warren Williams asked the couple if they'd be comfortable taking some photos underwater.
"I didn't know it was possible," Mrs Couch said.
"But when he suggested it we said yes, of course."
The photo is taken beneath the El Torito Arch, and the couple braved the fresh 19C water, with Mrs Couch in her wedding dress. Shayni Couch, nee Hawkins, 24, grew up in Tutukaka and worked for Dive! Tutukaka during school holidays from the age of 15.
She moved to Dubai when she was 21 for the chance to have an overseas adventure, where she is now managing yachts.
She met her husband, who is originally from Kansas, on her first skydive in Dubai - he was the video camera operator.
The adventurous couple made the choice to come back to her home in Tutukaka for their clifftop wedding.
"We actually had more guests from around the world than locals at the wedding," Mrs Couch said.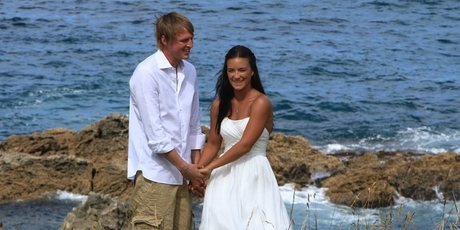 "It's been great to have his family here and show them the Coast. A lot of people have come to visit New Zealand as well as for the wedding."