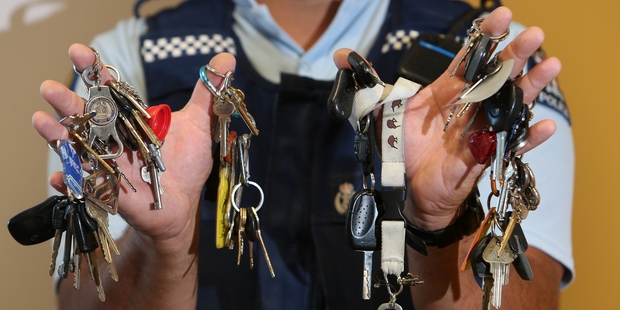 A Bible, a white cane, black guitar, diamond rings, wallets filled with cash and a bag containing food are some of the property found by good samaritans and handed over to Whangarei police during the summer holidays.
Hundreds of sets of keys unlocking cars, homes, cupboards and maybe secret saves along with cellphones and sunglasses are also waiting for owners to claim them.
While most of the sunglasses are on the cheap side there are thousands of dollars worth of prescription glasses being held safely in a green bucket at the watch house.
A Bible with a burgundy-coloured cover and a white cane are some the more unusual items to be handed in.
Whangarei police lost property officer Joan Johnson said she was continually amazed at the honesty of people who handed in property they had found all round Whangarei.
"A great majority of what we get are wallets and cellphone. Normally if there is identification in the wallets we can track down the owners."
In the latest show of honesty a wallet containing $450 cash was found in the central city and given to police. The grateful owner was delighted to get not only all the credit cards back but the cash as well.
"It's a real pleasure to give back an item to some one who has lost it," Mrs Johnson said.
She said it was worth people checking with police if they had lost something as there was also bikes, handbags and jewellery that was being held at the Whangarei police station thanks to extremely honest people who did the right thing.
The black and white rod, possibly a cane was found in James St while the Bible was discovered on Powhiri Ave.
A large black bag containing numerous items, including food was found outside the Hikurangi Museum and given to police on the last day of the year.
In 2010, $3500 cash in a bank envelope was left at Woolworths checkout in Whangarei. An honest checkout operator took the money to Whangarei police station and a thankful yachtie collected it.