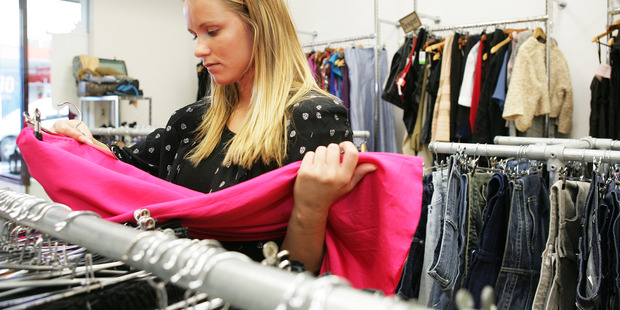 Reporter Hannah Norton is embarking on a clothing challenge that will see her make only second-hand purchases for the next year. She writes about finding a few real steals in two Whangarei `re-dress' stores.
IMAGINE finding a brand-new Trelise Cooper jacket complete with a $385 price tag at an op-shop for $20. Well you can, right here in Whangarei.
In fact, if you want to pop some tags with only $20 in your pocket (a la Macklemore) in Whangarei, you could very well pick up a pre-loved Sass and Bide, World, Sylvester or Ricochet piece - all of which I found nestled in the garment racks of two local second-hand stores.
Op-shopping is something I've always done sporadically - finding a gem here and there - but this year op-shops will be my sole source of clothes.
I'm going to do my own version of the Redress' 365 Challenge, a one-year second-hand clothing challenge started by Redress founder Christina Dean.
The reasons behind the challenge include showing that fashion can be sustainable and keep clothing waste out of landfills.
``With today's fashion production and consumption spiralling out of control, we must educate and inspire the public to rethink the way we consume, wear and discard our valuable clothes,'' says Ms Dean.
My challenge this year is to buy second-hand, rather than wear entirely second-hand. I didn't have to chuck out my entire wardrobe although, admittedly, thinning out my wardrobe is partly why I am doing this challenge.
Last year I developed a rather nasty habit of constantly buying cheap, poor quality clothes under the guise of a bargain.
Most of these bargains have spent more time on the floor gathering dust than they have on me.
In fact, at one point, they were everywhere.
On the floor, the bed, the coffee table, the dresser, the bedside table, the boot and back seat of my car. It took me weeks to sort them. Many items I sold at a car boot sale for $1 a piece.
So it resonated with me when, at last year's London Fashion Week, Dame Vivienne Westwood made a plea to the public to buy fewer and better quality clothes, saying: ``Buy less. Choose well. Make it last. Quality, not quantity. Everybody's buying far too many clothes.''
This makes another case for op-shopping. You can get good quality pieces - albeit pre-loved - for a fraction of the retail price. And they don't necessarily have to be designer, although designer labels are often made to last with good quality fabric and stitching.
And these days you can find in-trend clothes, it's not all boho, vintage and retro.
So I set myself a challenge: To find two outfits, workwear and evening/party wear, for under $50 at two Whangarei op-shops, Paper Bag Princess and the Red Cross Shop, both on Bank St.
These are just two of around a dozen second-hand clothing outlets around Whangarei.
The Paper Bag Princess store opened in November last year, and is a franchise of the Auckland branch, owned by lifelong op-shopper and local Maggie Churcher.
The store's layout is very user-friendly, with separate sections for different types of clothes, including plus-size, and all items are on wooden coat-hangers. There is also a small section for men.
The designer rack boasts the likes of Sass and Bide, World, Sylvester, Ricochet, Lonely Hearts and Moochi, and sifting among the ``regular'' racks, it's easy to pull out a Dejcuba top or Asos jeans.
Looking for workwear, I found a number of nice blouses and skirts, but settled for a long, black, scoop-neck formal dress by Jolie Femme on the designer rack for $16. It was lined and had a beautiful shape.
There was a variety of possibilities for evening/party wear, with an assortment of dresses, skirts and pants. I settled on a royal blue Max halter-neck dress, on sale for $7.
That brought my total expenditure to a whopping $27, less than half the allocated budget.
Even though the brief was for workwear and evening/party wear, a number of smart-casual and beachwear items caught my eye, including a lined, grey One Teaspoon waistcoat ($5), a tartan Supreme hat (a New York fashion trend that retails for about US$55, here for $10) and a white mesh bustier crop top for $14.
Across the road, the Red Cross Shop is run by volunteers. Looking for trendy items involves a little more digging here but it pays off _ I found a black and white, belted Marcs dress for workwear for $10.
For evening/party wear I chose a floral dress for $8, lined and extremely well-made but with no label. One of the volunteers suggested it could have been tailormade.
That brought the total for my Red Cross spree to $18, and overall expenditure to $45 _ less than half the allocated budget for both shops.
But there was a sting in the tail of my triumph. Time just flew while I was captivated in my op-shopping. I received a $60 parking ticket and was nearly towed for parking in the clearway on Bank St after 4pm. Ah well, there is always a price to pay for fashion.
Join the one-year challenge
The 365 Challenge is a one-year second-hand clothing challenge started by founder of Hong Kong eco-fashion organisation Redress, Christina Dean. For every day of 2013 - and still continuing - Ms Dean wore recycled, restyled, reconstructed or repaired second-hand clothing. Her journey is documented online (www.instagram.com/getredressed). The reasons behind the challenge include showing that fashion can be sustainable and keep clothing waste out of landfills. Redress is a charity with a mission to promote environmental sustainability in Asia's fashion industry by reducing textile waste, pollution, water and energy consumption through sustainable fashion shows, exhibitions, competitions, seminars, research and media outreach.