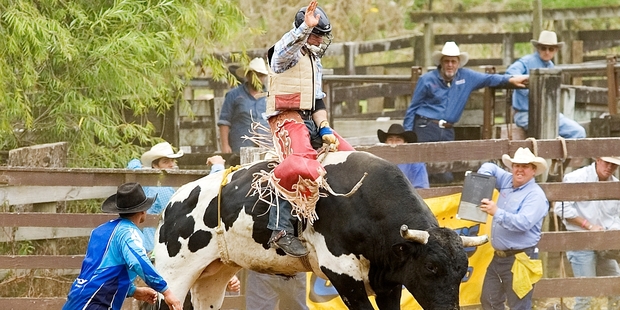 This year's Mid Northern Rodeo at Maungatapere was a bucking great success.
There were 300 entries and 1800 people through the gate on Saturday - the most the rodeo has had in the last five years, says Mid Northern Club secretary Dianna Bradshaw.
"We've got huge entries - we are the biggest rodeo so far in the country in terms of entries."
Competitors came from all over the country and even trucked horses across the Cook Strait to get to Whangarei.
The rodeo was held at the specially built arena at the Equestrian Centre in Kokopu Block Rd, Maungatapere, and was a two day event, with each day a separate competition.
Saturday's winners include Rotorua's Johnson Davis, who won the main event of bull-riding, on bucking bulls purpose bred by Chris McGarry from Umawera.
Local competitor Buster Tauariki, currently the leading cowboy in New Zealand, didn't have such a great Saturday, placing fourth in the steer-wrestling, Ms Bradshaw said.
Taipa's Lanigan family - father Matt and sons Klay and Bradley - continued to cement their place in New Zealand rodeo history, with Matt placing third in the steer-wrestling and Klay placing fourth in the saddle-bronc and second in the rope and tie. The broncs are owned by the Mid Northern Club and are amongst some of the best bucking horses in the country, she said. All the events of rodeo were on display including bull ride, bronc ride, roping, steer wrestling and barrel racing. "It's a cool spectator sport," Ms Bradshaw said.
Maori Television was there filming for a television show being aired in May called 'City Slickers', she said.
The committee is "really happy" with this year's turnout, Ms Bradshaw said. The two-day competition finished yesterday.